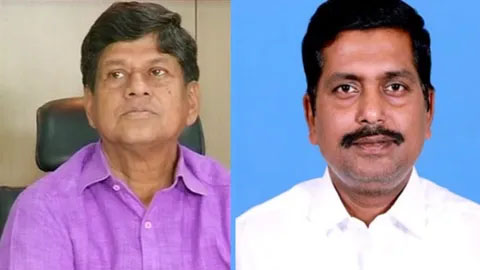 Bhubaneswar: In a major decision ahead of the monsoon session of State Assembly, the Governing BJD has expelled two sitting MLAs including Khandapara MLA Soumya Ranjan Patnaik.  
BJD Supremo and Chief Minister Naveen Patnaik has formally announced that Soumya R Patnaik and Remuna MLA Sudhansu Sekhar Parida have been expelled from the party.  
In a press statement, the BJD President said they are expelled for anti-people activities.
"On an FIR by an ex-employee of Sambad Newspaper a case under sections 506/467/468/471/420/120-B IPC has been registered against him and others by Economic Offence Wing (EOW) Odisha," he said.
Further, many ex-employees of Sambad Newspaper have made similar allegations with EOW Odisha. It is a serious case of organized bank fraud involving loan worth Crores of Rupees taken in the name of more than 300 employees of Sambad by using fraudulent means and forged documents, Shri Patnaik said.
Similarly, Sudhansu Sekhar Parida, when he was Managing Partner of Nigamananda Associates, Balasore, in connivance with others misappropriated government subsidies of more than Rs 3 crore, meant for farmers, during the period from 2017-18 to 2019-20. This matter is being inquired into by the State Vigilance on the orders of the Honorable Lokayukta. That's why action against Parida was taken, he informed.
On September 12, BJD had removed Soumya from the post of Vice-President post. Shri Patnaik has been criticizing the State Government, its policies and style of functioning of the Government and also the party through his newspaper articles, and media statements.  
Senior BJD leaders like Arun Sahoo, Atanu Sabyasachi Nayak, Pratap Deb and Amar Patnaik reacted to all his statements and appealed to him to quit the party. However, the MLA did not agree to it and said he will continue to remain in the party.
So, finally, the BJD President has removed him from the party. Now, he can continue as an independent MLA, sources said. 
"If Soumya will criticize the Government seating in the Treasury Bench, it will be a major embarrassment for the BJD. So, before the beginning of the Assembly session, the party has removed him," said a political observer.   
In March 2018, Shri Patnaik had joined the Governing party and soon he was sent to Rajya Sabha by the ruling party. Later, during the last Assembly election, Patnaik resigned from the RS and decided to fight the Assembly poll from Khandapada seat. For the first time, he was elected to the Assembly in 2019.
Soumya, who is the son-in-law of former CM J B Patnaik and younger brother of former State Congress President Niranjan Patnaik. He had earlier served in the BJP and Congress. He had also floated his own political outfit Ama Odisha, but could not succeed