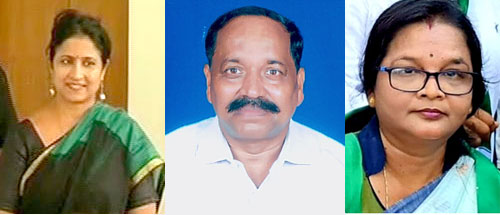 Bhubaneswar: The governing Biju Janata Dal (BJD) on Saturday announced its candidates for the Mayor election in three Municipal Corporations, Bhubaneswar, Cuttack and Berhampur.
BJD Supremo and Chief Minister Naveen Patnaik has announced that party spokesperson Sulochana Das will be the party candidate for the election to Mayor post of Bhubaneswar Municipal Corporation (BMC). At present, Das is serving as Chairperson of State Commissioner for Persons with Disabilities.
Similarly, senior BJD leader Subash Singh has been announced as party candidate for the Cuttack Municipal Corporation (CMC) Mayor election. Singh, a Rajya Sabha member, had served as Chairman of Odisha Building and Other Construction Workers Welfare Board (State Minister rank).
Singh thanked the Chief Minister for imposing faith on him and nominated him for election to such an important post.
Sanghamitra Dalei is the BJD candidate for the Mayor post in Berhampur Municipal Corporation (BeMC).
Congress has already announced the name of Madhusmita for the Mayor election in BMC. The party had announced former cooperator Giribala Behera as its Mayor candidate for the CMC.
On the other hand, the BJP has given the responsibility of selection of suitable candidates for BMC mayor post to local MP Aparajita Sarangi. Names of actress-turned-politician Anu Choudhury and BJP state general secretary Lekhashree are doing the rounds. However, nothing has been finalized, party sources said.
For the first time, there will be direct election for the post of Mayor in three Corporations and Chairperson of 106 Municipalities and NACs. The election will be held on March 24 and the result will be out on March 26.