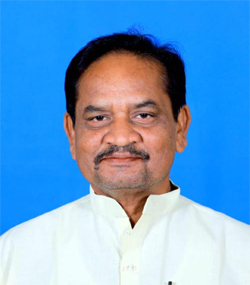 Bhubaneswar: Deputy Leader of Opposition in Odisha Legislative Assembly, Bishnu Charan Sethi passed away this morning at the AIIMS, Bhubaneswar following a massive cardiac arrest. He was 61.
AIIMS Bhubaneswar Medical Superintendent Sachidananda Mohanty said Shri Sethi was admitted in the ICU of the hospital a month back as he was suffering from multiple diseases including infection in the lungs.
The BJP MLA had also kidney ailment and was undergoing dialysis thrice a week in the hospital but he died of acute cardiac failure at 7:45 am on Monday, he informed.
Shri Sethi was elected to the State Legislative Assembly twice from two different constituencies of his native Bhadrak district.  
He was first elected to the House once from Chandbali Assembly seat in 2000 and again from Dhamnagar Assembly seat in 2019. 

He was serving as the Deputy Leader of Opposition in the Odisha Legislative Assembly. He has left behind a wife, son and daughter.
Odisha Governor Prof Ganeshi Lal, Andhra Pradesh Governor Biswa Bhushan Harichandan, Chief Minister Naveen Patnaik, Odisha Assembly Speaker Bikram Keshari Aarukh, Odisha Pradesh Congress President Sharat Pattanayak and leaders from all political parties have condoled the demise of shri Sethi.
Taking to his official Twitter handle Naveen Patnaik said, "Saddened to know about the demise of Dhamnagar MLA Bishnu Charan Sethi. His welfare work for the people as a public representative will always be remembered. My condolences to the bereaved family members and may his soul rest in peace."
Leader of Opposition, Jaynarayan Mishra said shri Sethi's death was a huge loss to the party. "There are very few leaders who could speak with a lot of conviction about issues and Shri Sethi was one of them," said Shri Mishra.
Senior Congress leader Narasingha Mishra said Shri Sethi was a senior legislator who will be known for his remarkable discussion in the House.  "Though we were opposing each other in the political sphere, we used to share a bonding. The state has lost a senior leader, social worker, journalist and speaker and the House, a top-class legislator," said the Congress Lawmaker.
Congress Veteran and Senior Lawmaker Suresh Kumar Routray lauded Shri Sethi as a noble soul and one of the finest Lawmaker.