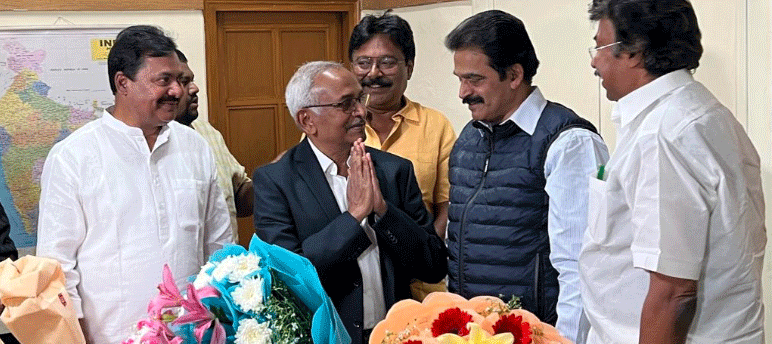 New Delhi: Inspired by the Bharat Jodo Yatra by Rahul Gandhi, former Odisha Chief Secretary Bijay Kumar Patnaik joined the Congress party here at the headquarters of the All India Congress Committee (AICC) on Friday.
Shri Patnaik formally joined the Congress in presence of AICC General Secretary KC Venugopal, AICC in-Charge of Odisha, A Chellakumar and Odisha Pradesh Congress Committee (OPCC) President Sarat Patnaik.
Earlier, there was a speculation that Shri Patnaik, a 1976-batch Odisha-cadre IAS officer, would join the Governing Biju Janata Dal (BJD) and be elected to Rajya Sabha. However, nothing happened on this line.
Later, speculations were rife about his joining the Congress, but at that time, he met the then AICC President Rahul Gandhi in Delhi, but did not join the party. Shri Patnaik had stated that he had no interest in politics.
According to political pundits, joining by an Ex IAS Officer in Congress, when many tall leaders like Pradeep Majhi have left the party, will definitely give some solace to the party workers. He is known for his resourcefulness and organizing capabilities, a senior Congress leader said.
Shri Patnaik had served as Principal Secretary to Chief Minister Naveen Patnaik from 2004 to 2010. He retired in 2013 after serving as the Chief Secretary of Odisha from September 2010. He also held important positions as Agriculture, Forest, Water Resources in the State.
The Odisha Government then appointed him as the Chairman of the Odisha Staff Selection Commission (OSSC) for a year from 2013 to 2014. Later, he became a Member of the Odisha Human Rights Commission (OHRC) in 2014.
In 2015, Shri Patnaik had joined the Anil Agarwal Foundation as President of the Vedanta University Project. However, he quit the Vedanta Group two years later stating that lack of interest from the Anil Agarwal Foundation in establishing a university led to this decision.
Meanwhile, the joining of new members into the Congress is believed to have been inspired by the encouraging response received by the Bharat Jodo Yatra, a mass movement spearheaded by Rahul Gandhi to unite the country in the face of divisive politics.