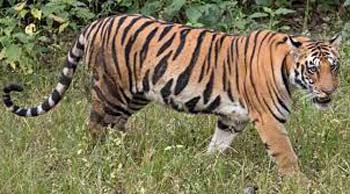 Bhubaneswar: The number of tigers in Odisha decreased to 20 from 28, as per Tiger Estimation Report released by Govt of India on International Tigers Day, today. 
As per the report, the big cat population continues on a decreasing trend in Odisha, which was earlier treated as heaven for the wild animals. The National Tiger Conservation Authority (NTCA) conducts the tiger census every four years.
Odisha had 45 big cats in 2006, which came down to 32 in the next census conducted in 2010 and then again came down to 28 in the next two censuses in 2014 and 2018. In this latest Census report, the State has not only 20 tigers.
The estimated number of tigers in Similipal Tiger Reserve has been increased to 16 from the previous estimated figure of 8 in 2018. Theis tiger reserve was recently assessed by GoI to be one among the 12 best managed TRs of the country, officials said.
Efforts of frontline forest personnel in forest fringe villages of Similipal deserve appreciation. In fact, on this occasion, late Mathy Hansdah, Forester and Late Bimal Kr Jena, FG who laid their life protecting TR have been posthumously felicitated by NTCA together with Himanshu Sethi, FG.
However, overall, for the entire State, the estimated population is now 20 (ranging in between 17-24) from the previous such figure of 28 (range then being 26-30).
As ordered by the Chief Minister during last review of the departmental works in May '2023, the Forest Department will be carrying out the estimation ourselves in the State commencing from October 2023. This exercise will provide the updated status of the tigers in the State, the officials said.
India currently harbors almost 75% of the world's wild tiger population. India is home now to at least 3,167 tigers, which is around 6.7% higher than the estimate as per the last tiger census in 2018, which pegged tiger numbers at 2,967.
As per the report, while some areas like the Shivalik and Gangetic floodplains have recorded a "substantial" increase in minimum tiger populations, the Western Ghats landscape and northeastern hills have witnessed a decline. The report also highlighted the local extinction of tigers in some areas such as Kawal Tiger Reserve in Telangana.