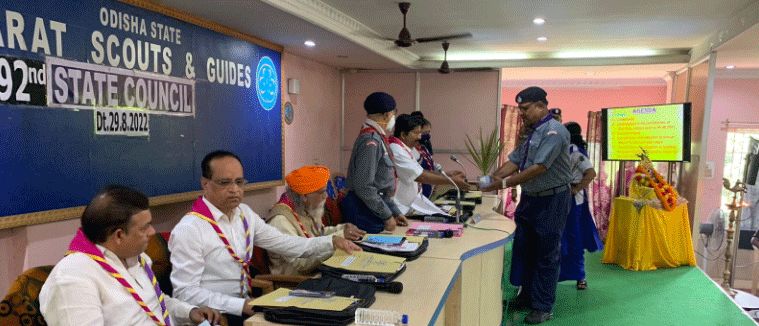 Bhubaneswar: The Bharat Scouts & Guides held its State Council Meeting here on 28 August at the State Headquarters.
Minister Food, Supply & Consumer Welfare and Cooperation, Atanu Sabyasachi Nayak, who is also the President of Odisha State Bharat Scouts & Guides chaired the State Council Meet.
State Vice President and Minister Water Resources and Commerce & Transport Tukuni Sahu, Lawmaker Anant Narayan Jena, Lawmaker, Susanta Kumar Rout attended the meet.
T Prasad Rao Dora, International Vice Chairperson of International Fish Cooperative Organization and Vice President of Odisha State Bharat Scouts & Guides graced the occasion.
Minati Behera, Chairperson, State Women's Commission, Niranjan Rath, Publisher of The Samaja, State Chief Commissioner Kali Prasad Mishra, State commissioner Ashok Kumar Rath and other office bearers attended the meet.
State Joint Secretary Mihir Ranjan Patnaik made obituary reference on departed souls of Scouts and Guides Organization. One Minute silence was observed for these eminent personalities.
State Chief Commissioner Dr.Mishra reeled out details of the programs organized by State Level Organization and he briefed the House about the national and International achievements of the Institution.
State Council approved the Annual Budget and Programs were chalked out for the entire year.
State Secretary Sarat Chandra Paikaray presented Vote Of Thanks in the meeting.