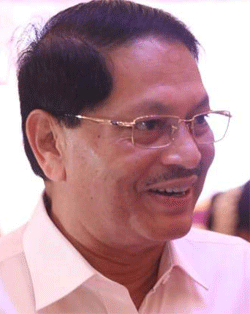 Bhubaneswar: Former Development Commissioner U N Behera has said that Odisha has done a commendable job in prudent fiscal management.

Participating in the Pre Budget Consultations held here on 6 January, Mr.Behera, who was one of the longest serving Principal Secretary Finance has said that the State has meticulously met all the stipulations of FRBM Act and Finance Commission advice.
Minister Finance, Niranjan Pujari, Development commissioner Pradeep Jena, Principal Secretary Finance, Vishal Dev presented the Budget Outlook.

He was happy as the State has been generating adequate revenue surplus and kept the fiscal deficit within the prescribed limits.
Mr.Behera said the Debt GSDP is 15 % much below the permissible limit of 25 %.

Interest Payment too is as low as 5 % of the Revenue Receipt far below the prescribed limit of 15 %.

The budget allocation has been predunt aimed at higher growth.

Former Development Commissioner said that as much as 50 % of the total budget allocation goes towards Programme Expenditure.
When he was Principal Secretary Finance, he increased the Capital Outlay in the Budget and it has gone up to 5.2 %, which is possibly the highest among all the states.

Regarding the budget allocation, priority needs to be given to agriculture sector that includes agriculture, fisheries and animal rearing as 60 % of the population depends on this sector for their livelihood.

He advised that the Agriculture sector requires higher allocation on irrigation, input supply, promotion of agro-processing and agricultural marketing.
Mr.Behera, who has served long time in Indyustry Sector said that MSME is another area that has the potential of creating employment.
Their infrastructural needs and financing requirements require to be addressed.

However, skill development of the youth needs to be taken up on priority. Higher Capital Outlay needs to be continued in the areas of education, health, agriculture, irrigation, electricty, connectivity, rural development and urban services.

Former Principal Secretary Finance advised for utilization of the allocation needs to be monitored on a regular basis.