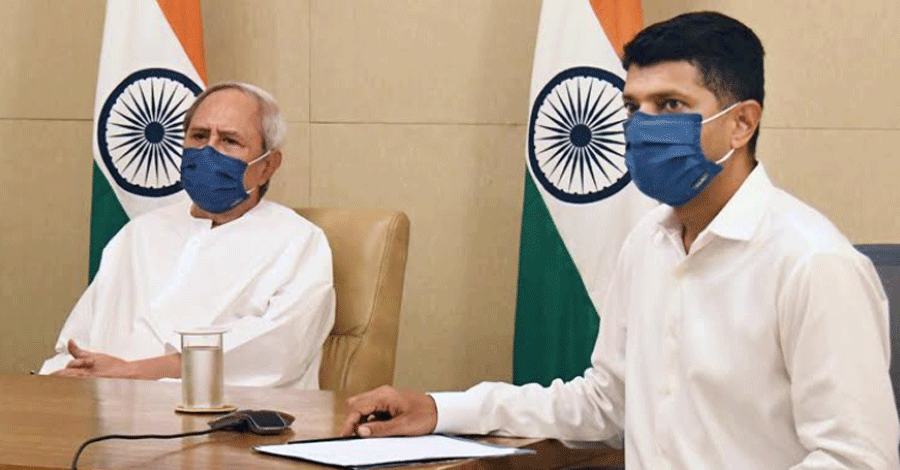 Bhubaneswar: Chief Minister Naveen Patnaik Tuesday said that responsible behaviour during festival season is crucial in controlling Covid third wave.
Reviewing the situation here, he said people are required to strictly abide by the Covid law in order to be safe from possible third wave.
The Chief Minister warned that slight negligence could spell danger to all. Secretary to CM V K Pandian moderated the Detailed Review.
Mr.Patnaik said that the incidence of Corona infections in various places from the US to Kerala is worrying.
"Covid appropriate behavior is the most powerful weapon in the fight against Covid," the Chief Minister said and added that that proper compliance was important for all.
He said the children had not been vaccinated yet and people need to be careful at least for their sake.
The Chief Minister said that the lockdown restriction have been eased to a great extent in the interest of livelihood.
"But that does not mean people should be complacent. The State Government would once again be forced to impose the restrictions if needed in public interest," he said.
He cautioned the heads of institutions to ensure compliance of Covid regulation or be held responsible.
The Chief Minister directed the administration to keep a close eye on the Hat, markets, religious and health Institutions etc and stressed testing of high risk health workers, school children, pregnant women, government employees and police personnel.
He also advised to keep a close eye on the micro contentment zone as the Delta variant is more contagious.
CM Mr.Patnaik said vaccination has also improved as supply has increased.
"The District Magistrates must ensure that everyone took his two doses of the vaccine," he said.