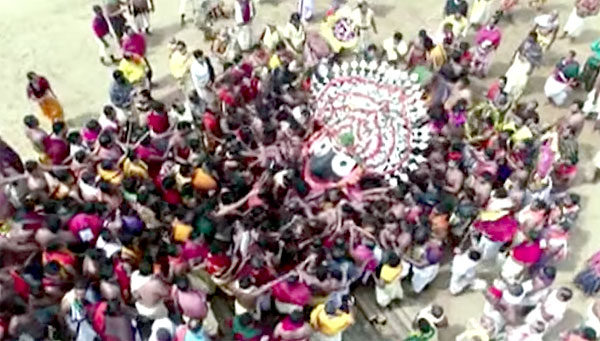 Puri, July 20: Much ahead of the scheduled time, the Dhadi Pahandi rituals of Lord Jagannath and his siblings performed in pilgrim city Puri amid religious fervour on the auspicious occasion Bahuda Jatra.
The Trinity are being brought out of the Gundicha temple in procession amid loud chants of 'Jai Jagannath, Hari Bola and noises of conchs and ghantas by thousands of Sevayats.
Lord Sudarsan was the first to be brought out of the temple followed by Lord Balabhadra and Devi Subhadra. And then, Pahandi rituals of Lord Jagannath also performed. All three Holy Deities have been boarded to their respective chariots– Taladhwaja, Darpadalana and Nandighosa.
As per schedule, Gajapati Maharaj of Puri Dibyasingh Deb will arrive in his royal palanquin to carry out the Chhera Panhara ritual, the ceremonial sweeping of the chariots with a golden broom, amid chanting of hymns by the priests.
Following these rituals, pulling of the three gigantic chariots by the servitors will be started. Taladhwaja of Lord Balabhadra will be pulled first followed by Darpadalana of Devi Subhadra and Nandighosa of Lord Jagannath.
They will halt at the Mausima temple where the deities will be offered 'poda pitha' made of rice, jaggery, coconuts and lentils.
Before reaching the Srimandir, Lord Jagannath's chariot also halts in front of the palace of Gajapati Maharaja of Puri, where a ritual namely 'Lakshmi-Narayana Bheta' will be performed. The 'Suna Besha' of the Deities will be held tomorrow.
Like Gundicha Jatra, no other person was allowed on the Bada Danda apart from servitors, security personnel and other officials of the State Government and the Shree Jagannath Temple Administration (SJTA).
The entire Puri district is under shutdown restrictions during the pulling of chariots. Tight security arrangements have been put in place for smooth completion of the festival. The entire Grand Road was under Section 144 of the CrPC and a curfew-like situation prevailed in the pilgrim town. All entry points to Bada Danda and roads leading to Puri were barricaded and sealed.
Meanwhile, Chief Minister Naveen Patnaik, Union Minister Dharmendra Pradhan and many senior leaders greeted people on this auspicious day.