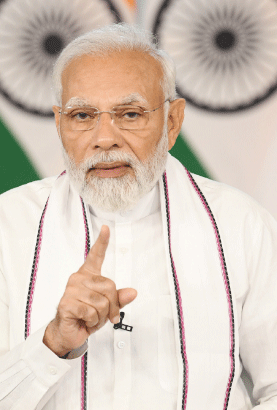 New Delhi:  "Making medical treatment affordable has been the top-most priority of our government", said the Prime Minister, Narendra Modi informing that through Ayushman Bharat, about 80 thousand crore rupees of the poor patients were saved due to free treatment under the scheme.
Prime Minister, Shri Modi, addressed a Post Budget Webinar on the subject of 'Health and Medical Research' and said tomorrow i.e. 7 March is observed as Jan Aushadhi Diwas, the Prime Minister pointed out that affordable medicines through 9000 Jan Aushadhi Kendras have saved about 20 thousand crore rupees of the poor and middle classes all over the country.
This means that just these two schemes saved one lakh crore rupees of the citizens.  The Prime Minister underlined the importance of strong health infrastructure for the treatment of serious ailments. Highlighting the prime focus of the government, the Prime Minister informed that more than 1.5 lakh health centres are being developed in close proximity to homes across the country so that testing centres and first aid are available. He also informed that facilities for screening serious ailments like diabetes, cancer and heart-related issues will also be available at these centres. The Prime Minister underlined that Critical health infrastructure is being made accessible to small towns and villages under the PM-Ayushman Bharat Health Infrastructure Mission which is not only giving rise to new hospitals but it is also creating a new and complete health ecosystem. As a result, the Prime Minister noted that many opportunities are being created for health entrepreneurs, investors and professionals.
Regarding human resources in the sector, the Prime Minister informed that more than 260 new medical colleges have been opened in the last few years. This has doubled the medical seats in graduate and postgraduate medical courses as compared to 2014. The Prime Minister underlined the emphasis on the nursing field in this year's Budget. "Opening 157 nursing colleges in the vicinity of the medical colleges is a huge step in the direction of medical human resources. This may be useful in fulfilling global demand, not just the domestic need", he added.