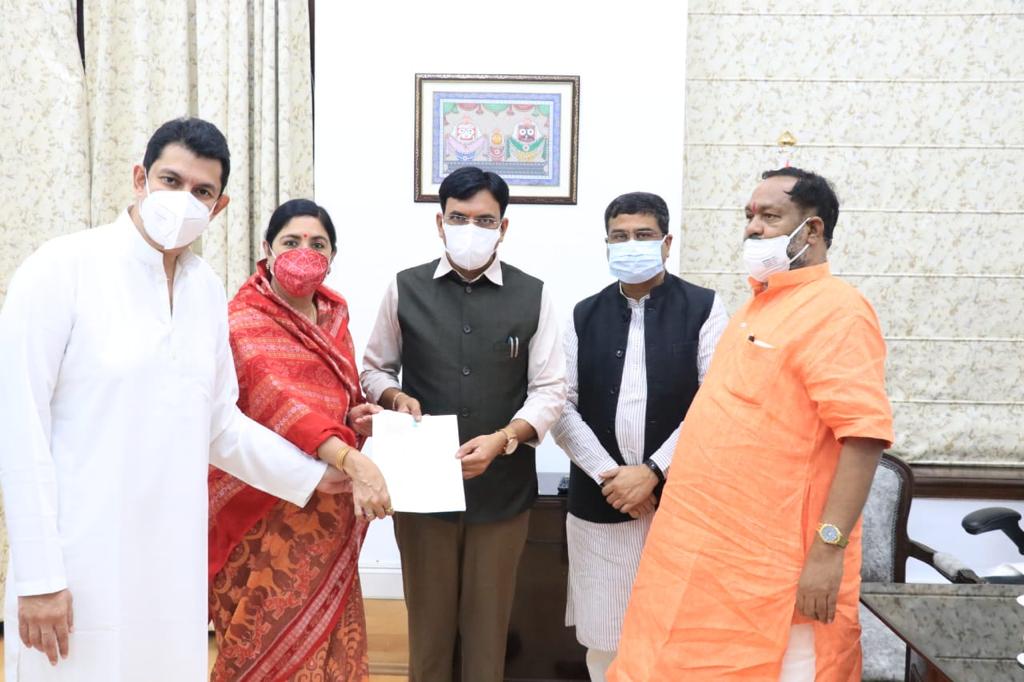 New Delhi :BJP MPs from Odisha have urged Centre for implementation of Ayushman Bharat- Pradhan Mantri Jan Arogya Yojana (AB-PMJAY) in Odisha.
A delegation of the BJP MPs led by Union Minister Dharmendra Pradhan on Tuesday met Union Health Minister Mansukh Mandaviya in New Delhi and sought personal intervention for fulfilling their demand. The MPs also submitted a memorandum to him.
Prime Minister Narendra Modi had launched the scheme on 23rd September 2018. Under which a financial cover of Rs 5 lakhs per family per year has been provided for secondary and tertiary care hospitalization to approx 13.44 crore needy families or 65 crore individuals in India.
During the 1st and 2nd wave of the Covid-19, Ayushman Bharat proved to be a lifesaver for countless Indians as testing and treatment of Covid-19 were made available free of cost under the scheme, the MPs said.
"It greatly pains us to inform that even after 3 years since the launch of the AB-PMJAY scheme Odisha remains one of the few States where the State government has not implemented Ayushman Bharat thereby depriving almost 60 lakh needy beneficiaries from availing of this pro-poor healthcare services," the MPs said in the memorandum.
The Economic Survey of India 2020-21 notes significant differences across States which have implemented AB-PMJAY and those which have not. The proportion of households with health insurance increased by 89 per cent from 2015-16 to 2019-20 in States that implemented AB-PMJAY while falling by 12 per cent over the same period in States that did not implement AB-PMJAY.
The per capita spending by the Government of Odisha on healthcare is only Rs 1,501 in FY 2020-21 compared to the national average of Rs1,944. Further, as per 15th Finance Commission, Odisha has 12th Poorest in Doctor – Population Ratio in the Country at 1 doctor per 1864 population, in comparison to the national average of 1 doctor per 1456 population, it said.
Furthermore, it is estimated that migrant families spend up to one third of their income in availing medical facilities at their place of work. Hence it is crucial to note that while AB-PMJAY has pan-India portability and can be used by Odia migrant workers at their place of work, the MPs further said.
They said the Biju Swasthya Kalyan Yojana is mostly restricted to facilities within the State thereby restricting usage by migrant workers at their place of work as well as denying the choice of availing better healthcare options available to people of Odisha, outside the State.
"In the larger interest of people of Odisha, especially the State's huge migrant worker population who are unable to utilize state-sponsored health care scheme at their place of work, and in preparation for the 3rd wave of Covid-19 pandemic, we call upon your personal intervention for directing State Government for taking necessary actions to implement the AB-PMJAY in Odisha at the earliest," they added.
Earlier, the Prime Minister had also urged the State Government to implement the health insurance scheme for the welfare of people.