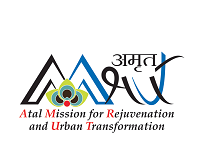 Bhubaneswar: Odisha has performed in a better way so far implementation of Atal Mission for Rejuvenation and Urban Transformation (AMRUT) is concerned, officials say.
AMRUT, the flagship program of Government of India focuses on providing universal coverage of water supply & substantial improvement in coverage of sewerage/septage management besides providing other basic amenities in 500 cities across the country.
Nine cities are covered under AMRUT in State of Odisha. Against the approved plan size of Rs.1,599 crore, State has grounded 191 projects worth Rs.1,714 crore.
Out of which 186 projects worth Rs.1,680 crore have been completed. Overall, physical works worth Rs.1,712 crore have been completed & Rs.1,597 crore worth of expenditure has been incurred.
On eof the major program is tap connections. So far 4.98 lakh tap connections and 4.14 lakh sewer connections/households coverage under septage management have been provided achieving the Mission targets.
Under reform agenda, State has replaced 1.70 lakh conventional streetlights with LEDs resulting in estimated energy savings of 3.71 crore units/year and 0.30 lakh tonnes of CO2 emission/year.
State have implemented OBPS in all the Mission cities. Against the committed central assistance of Rs.797 crore, Rs.785 crore has been released for projects against which Rs.785 crore worth of utilisation certificates have been received.
Overall, Rs.913 crore has been released to the State against which Rs.898 crore worth of utilisation certificates have been received.
So far in the country against the approved plan size of Rs.77,640 crore, 5,873 projects worth Rs.82,222 crore have been grounded.
Of this, 4,676 projects worth Rs.32,793 crore have been completed. Overall, works worth Rs.66,313 crore have been physically completed & Rs.59,615 crore expended on projects.
So far 134 lakh water tap connections and 102 lakh sewer connections (including households covered through Faecal Sludge and Septage Management -FSSM) have been provided through AMRUT & convergence against targeted 139 lakh water connections and 145 lakh sewer connections respectively.
Total Sewage treatment capacity of 6,340 MLD is being developed through AMRUT projects. Of which, 2,840 MLD sewage treatment capacity has been created, & 1,437 MLD capacity has been developed for recycle/reuse.
AMRUT has led to development of 2,299 green parks adding 4,480-acre of green spaces. Additionally, 951-acre of green spaces will be added through ongoing park projects. 666 Storm Water Drainage projects have been completed under AMRUT.
This has resulted in elimination of 2,434 water logging points and another 1,307 water logging points are in progress of elimination. More than 250 Green Mobility projects have been completed to promote environment friendly mode of transport and infrastructure, says official source.