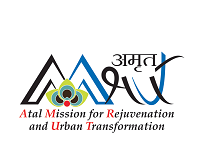 Bhubaneswar; As many as 191 projects worth Rs 1715 crore have been taken up under Atal Mission for Rejuvenation and Urban Transformation (AMRUT) in Odisha.
This was informed by Union Minister for Housing and Urban Affairs Hardeep Singh Puri in Parliament while replying to a question of BJD MP Chandra Sekhar Sahu recently.
Out of which, the Odisha Government has completed 171 projects worth Rs 1,409 crore, so far. The approved plan size of the Odisha Government under AMRUT amounts to Rs 1,599 crore, which includes committed Central Assistance of Rs 797 crore.
So far, the Centre has released an amount of Rs 785 crore to the State of Odisha for implementation of the AMRUT projects.
Implementation of certain projects under AMRUT have been delayed due to various reasons, such as land disputes, natural calamities, delay in obtaining clearances/ permissions from other departments and lockdown imposed due to Covid-19 pandemic etc., Puri said.
The State Government had informed the Centre that the total cost of AMRUT projects has reached Rs 1,687.33 crore which was in excess of approved plan size and, therefore, they requested to provide the difference of Rs 93.39 crore as Performance Based Incentive Grant against the efforts of the State to achieve "Drink from Tap" and initiatives towards Universal household coverage for water supply, the Minister said.
Since, the Ministry has already released the entire eligible amount against their committed Central Assistance and there is no untied fund under AMRUT, any additional Central Assistance to Government of Odisha could not be released, he clarified.
Also, releasing additional funds as Performance Based Incentive Grant was not feasible as per the extant conditionalities for extension of AMRUT scheme, Puri added.
Nine cities of State– Bhadrak, Cuttack, Balasore, Puri, Bhubaneswar, Baripada, Berhampur, Rourkela and Sambalpur have been covered under the scheme, which was launched on 25 June, 2015.