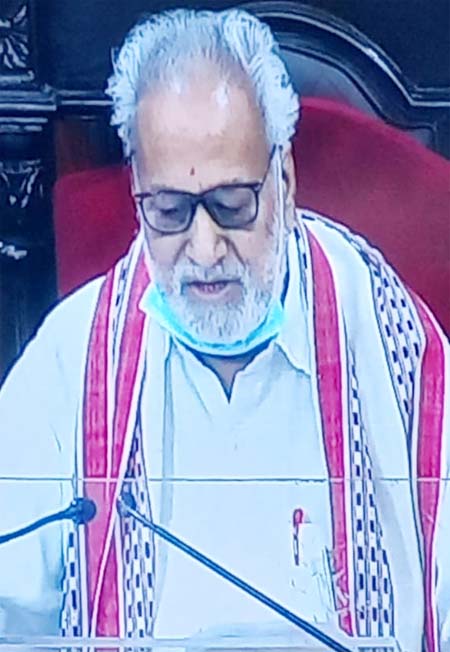 Bhubaneswar: The year 2021-22 has been a year of high collection of mining revenue. The current financial year collection stands at Rs.31,049 crore till December, 2021, which is an all-time record, said Governor Ganeshi Lal here on Friday.  
While addressing the Assembly on the inaugural day of Budget Session, the Governor said, "As a mineral rich State, Odisha has vast reserves of high grade Iron ore, Bauxite, Chromite, Manganese ore, coal and other minerals. My Government has been implementing the IT based mineral administration under Integrated Mines Mineral Management System to augment 'ease of doing business' in the mining sector."
Against the total mining revenue collection of Rs.46,347 crore over the last five years up to 2020-21 the current year collection stands at Rs.31,049 crore till December, 2021, which is an all-time record, he said.
Against an annual target of Rs.1,300 crore of revenue generation from minor minerals for the current financial year, Rs.448.36 crore has already been collected. Similarly, Motor Vehicle Tax of Rs.1,117 crore has been collected against a target of Rs.1,765 crore during the period, the Governor said.
Similarly, he said, against the annual target of Rs.5,500 crore of excise revenue during 2021-2022, the collection till date stands at Rs.3,653 crore.
"My Government's Commercial Taxes and Goods & Services Tax organization has been awarded Tax India On-Line National Taxation Award 2021 in Gold category as the best Reformist State and Gold Award in the SGST/State VAT Category," he further said.
The Governor said his Government has been able to collect its own revenue amounting to Rs. 62,788 crore till the end of December, 2021 which is about 84% more than the collection during the corresponding previous year period.
The windfall collection of mining revenue is the main driver of revenue collection during 2021-22. This has provided ample fiscal space for my Government to meet the requirement towards COVID management, livelihood generation and capital outlay for infrastructure development, he added.
Praising State's fiscal management, the Governor said Odisha has been a pioneer State in implementing international best practices in Public Financial Management. Recently a few other States have expressed their desire to partner with Odisha in implementing Public Financial Management reforms to strengthen and improve the quality of disclosures on public finances.
To enhance transparency and budget credibility, he said the State Government has been providing complete budget information in user-friendly formats in the website of the Finance Department as well as the dedicated Odisha Budget portal.
The Budget Session of the Odisha Legislative Assembly will continue till March 31. Finance Minister Niranjan Pujari will present a Vote on Account (Budget) for the 2022-23 on March 29 and discussion on the Budget will be conducted on the same day. The Appropriation Bill on Vote on Account will be laid before the House on the concluding day (March 31).