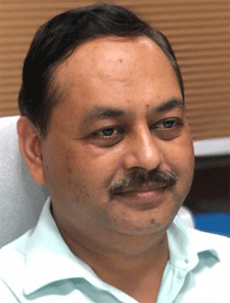 Bhubaneswar: The Election Commission of India (ECI) has made all necessary arrangements for the by-poll to Pipili assembly seat, scheduled for September 30.  
Chief Electoral Officer (CEO), Odisha, SK Lohani said over 2.29 lakh voters will exercise their franchise at 348 booths in the assembly constituency between 7 am to 6 pm.
About 2200 polling personnel will be engaged for the by-poll including the staff deployed to ensure implementation of Covid-19 appropriate behaviours at the polling booth, he said.
Around 2000 police personnel including three companies of BSF have been put on duty. There are 32 mobile parties and the police force is led by SP Puri who is assisted by seven DSPs and three Additional SPs, Mr.Lohani said.
There are 201 sensitive (critical) polling stations in the constituency, where, central armed police force, micro observer, web cameras will be deployed, he said.
As many as 423 vehicles are hired to be used by polling personnel, police personnel. As per the direction of ECI, all the government employees like polling personnel as well as police personnel and private persons like drivers/ cameramen etc have to be fully vaccinated.
Similarly, all the election agents, counting agents etc. deployed by the candidates have to be fully vaccinated. The district electoral officer (DEO) will have to ensure this, he said.
The CEO said 348 EVMs and VVPATs have been deployed in the election. In addition, sufficient numbers of EVMs have also been deployed to meet any emergency. Eight engineers from ECIL, Hyderabad have been deployed at strategic locations to attend to any technical problem occurring in EVMs/VVPATs etc, he said.
Postal Ballots from absentee voters like above 80 years, PwD voters and Covid suspected/affected voters has been ensured. In all, 924 postal ballot votes have been collected from eligible voters from their place of residence, Lohani pointed out.
As per the direction of ECI, voter information slips (Chirkoot) is being distributed to voters in advance which will have the information regarding their polling stations,
EPIC is the main document for identification of voters. However, he said, to facilitate voting, 11 other documents have also been permitted.
He said a special arrangement has been made for PwD voters (3009) who desire to come to polling stations for voting. Special arrangement for bringing them to booths as well as volunteers at Booth levels along with wheelchairs.
"All arrangements have been made to ensure Covid safe election like hand gloves, masks, sanitizers, thermal scanning etc. Special Covid kits for polling personnel have been arranged," the CEO said.
Two extra staff including one nodal officer for Covid have been engaged in each polling station and the last one hour of the poll is dedicated for suspected or confirmed Covid cases for which polling teams are provided with PPE kits, he added.
The CEO office has received three complaints for model code of conduct violation, four cases have been booked for violation of Covid-19 protocols and Rs 5,000 has been collected as fine from the violators.
The polling day has been declared as a public holiday in the Pipili area. All the government and private servants who are voters have been granted paid holiday.