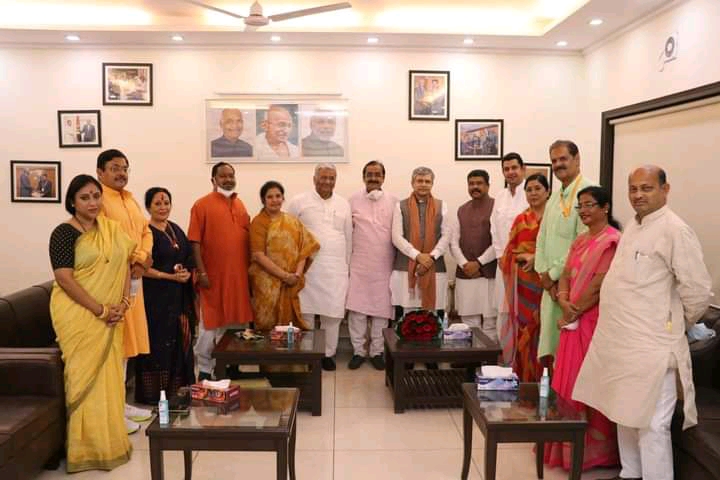 New Delhi: As it appears, all is not well in the Odisha's BJP's Parliamentary Party.
This is being discussed in the political circle here after prominent MPs including Lok Sabha Member from Bhubaneswar Aparajita Sarangi remained absent in the preparatory meeting for welcoming newly appointed Railway Minister Ashiwini Vaishnaw, said sources.
Mr.Vaishnaw is scheduled to return to Odisha on 16 August for which all preparations are being made to make it a mega event, party sources said.
The preparatory meeting was convened at the residence of senior Minister and Saffron Stalwart Dharmendra Pradhan where a program was chalked out on how to make Mr.Vaishnaw's first visit to Odisha remarkable.
The Saffron party wanted to give a clear message to the entire state that the Modi Government at the Centre really cares for Odisha for which three leaders are taken in the Union Council of Ministers.
Other than Mr.Vaishnaw, tribal leader Bisweswar Tudu, an MP from Mayurbhanj district, was also taken in the Minister while Mr.Pradhan, nominated to Rajya Sabha from Madhya Pradesh, was retained in the Union Ministry. Therefore, there are three Ministers from Odisha now.
Apart from Ms.Sarangi, the remarkable absentees included Bargarh MP Suresh Pujari and Sundargarh MP Jual Oram and Balasore MP, Pratap Sarangi. However, Mr.Tudu could not attend the meeting due to his illness, sources said.
While Ms.Sarangi, Mr.Sarangi Mr.Oram and Mr.Pujari are yet to give any statement on the reason for their absence, the party circle is agog with discussion that the leaders may not be happy for not getting a berth in the Ministry.
Both Ms.Sarangi and Mr.Pujari were in the race for the berth and denial might have hurt them because they won the direct elections while Mr.Vaishnaw got elected to the Upper House of the Parliament with support from the rival BJD headed by Naveen Patnaik. While Lok Sabha MP from Balasore, Mr.Sarangi had resigned from Ministry.
Both Mr.Vaishnaw and Ms.Sarangi have resigned from the elite IAS Cadre and entered into politics and the ultimate aim of any politician is to become a Minister at the national level.
Mr.Pujari deserved a ministerial berth because he has been a life member of the saffron party and started his political career in the ABVP before joining the BJP.
Similarly today also when Union Minister Mr.Pradhan led a delegation to Union Minister Health & FW there were only three MPs were present. This has raised eyebrows in the political circle.
However, the political observers are keenly watching the BJP's 16 August Ceremony in Bhubaneswar where Mr.Vaishnaw will be felicitated.