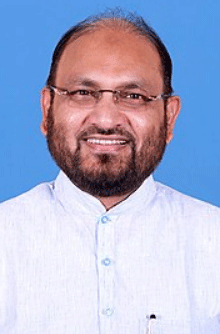 Bhubaneswar: It is very much loud and clear that all is not well in the Odisha Pradesh Congress Committee (OPCC) with senior Congress Lawmaker Mohammed Moquim casted his vote in favour of NDA Presidential candidate Droupadi Murmu.
Mr.Moquim made this announcement here on Monday at the State Legislative Assembly after casting his vote for the ongoing election to the highest position in the Indian Constitution.
The Cuttack (Barabati) MLA said that he chose Ms.Murmu, the daughter of Odisha soil, for the country's topmost constitutional post. "As whip cannot be applicable in the Presidential election, I voted as per the dictates of my conscience", he told Media persons.
Notably, Mr.Moquim was in the race for OPCC President post following the resignation of senior party leader Niranjan Patnaik. However, the AICC High Command has appointed Sarat Pattanayak as State Congress Chief.   
Commenting on the cross voting made by Mr.Moquim, PCC President Mr.Pattanayak said, "We have informed our High Command. Action will be taken as per the instruction of the AICC."
Congress Legislature Party leader Narasingha Mishra said the Party will take final call on this matter.
Congress MLA Taraprasad Bahinipati said this cross voting of Mr.Moquim proves that he is not satisfied with the party's decision. This move has also raised questions on the unity within the party, he added.
Another party MLA Santosh Singh Saluja said it is unfortunate and action will be taken by AICC.
Mr.Saluja said he should have voted for the opposition candidate as a disciplined member of the party.
Meanwhile, Chief Minister Naveen Patnaik and many legislators have casted their votes in the ongoing President Poll here at Room No-54 of the Odisha Legislative Assembly.
If the support of parties are taken into consideration, NDA's Presidential candidate Draupadi Murmu is way ahead of Yashwant Sinha.
Apart from BJP and it's NDA allies, BJD, YSR Congress, BSP, Shiv Sena, JMM, JDS, Akali Dal and TDP are extending their support to Ms.Murmu.