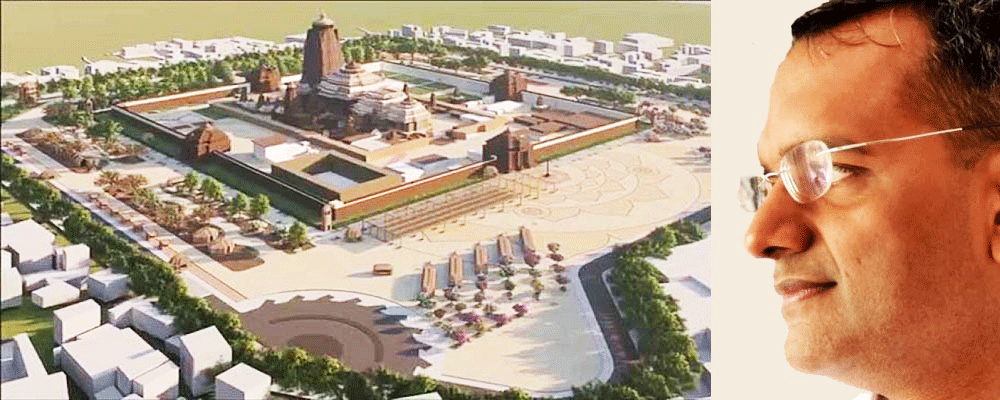 Puri: With all eyes on the ShreeMandir Parikrama Project, Dr.Krishan Kumar, Chief Administrator Shree Jagannath Temple Administration (SJTA) has started monitoring of the Mega Project execution process after the Foundation Stone laying Ceremony is over.
Chief Minister Naveen Patnaik graced the occasion of Shilanyas of ShreeMandir Parikrama Project on 24 November, which is a 75-meter Corridor around Shree Jagannatha Temple at Puri.
Dr.Kumar, an ardent devotee of Lord Jagannath and known as a Hard Task Master is monitoring through the Project Management Group, set up for this Mega Project. Project will be completed within 18 months as all eyes are on ambitious Project.
Besides ShreeMandir Cultural Advisory Committee headed by Gajapati Maharaj Dibya Singha Dev will also monitor and advise all works being taken up for the Mega Project, an official of Raj Nahar said.
The Project will provide expansive, unobstructed corridors around the Meghanada Pacheri for giving an opportunity to devotees and pilgrims to have visual connect with the Shree Jagannath Temple, Neelchakra and Meghanada Pacheri.
ShreeMandira Parikrama will also serve the function of providing amenities for pilgrims and for strengthening safety & security of the temple and devotees.

The Mega Parikrama Project has components like Heritage Corridor, Amenities & Facilities and Matha Redevelopment.

The 75 meters of the Shree Mandira Parikrama Project abutting Meghanada Pacheri is broadly divided into nine zones on the nother, southern and western side.

These include: 7-meter Green Buffer Zone (adjacent to Meghanada Pacheri), which consists of a 2-meter hardscape area abutting Meghanada Pacheri for access by staff and for maintenance purposes. The remainder 5-meter is a 1-feet high terraced landscape green.

10-meter Antar (Inner) Pradakshina: For ceremonial procession of deities year-round and use by general public for parikrama of Shree Mandira complex.
14-meter Landscape Zone: These gardens have been designed through meticulous research of the local arboriculture practices. Local varieties of trees and shrub used in Jagannatha Culture will be planted here.
8-meter Bahya (Outer) Pradakshina: Covered by trees on either side, this will act as a shaded pathway for visitors / pilgrims.
10-meter Public Convenience Zone: Along with plantation of tall trees and shrubs, this zone will have facilities such as restrooms, drinking water fountains, information- cum-donation kiosks, and shelter pavilions for shade and rest.
4.5-meter service lane: For access by service vehicles and maintenance of the corridor.
4.5-meter-wide dedicated shuttle cum emergency lane for any kind of emergency and disaster management.
7.5-meter mixed traffic lane to aid in movement of vehicles around the Heritage Corridor and to ensure access to properties abutting the outer access road as well as the lanes from the neighboring Sahis meeting this outer access road.
7-meter-wide shaded footpath with trees is designed adjacent to the mixed traffic lane for a smoother pedestrian flow around the corridor and neighboring area for people to commute. This will be equipped with parking bays for Sevaks and temple officials. It will also have provision for waste bins, street furniture, drinking water fountain etc.
The eastern plaza of the heritage corridor is proposed as a large open space as many festivals of Shree Mandira including the Rath Yatra starts from here. This will allow large congregation of devotees to take place in a safe and secure environment. It is pertinent to note here that more than 90% of the Heritage Corridor i.e., about Ac.24.7 out of Ac.26 is being developed as open and green spaces.