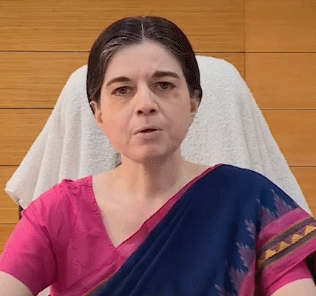 Bhubaneswar: Tough Administrator Shalini Pandit has directed Team BSKY to keep strict vigil over any chance of fraud in extension of BSKY benefits to the card holders.
Secretary Health and Family Welfare Shrimati Pandit has directed the BSKY Team both at the State and district levels. She also asked Collectors and District Magistrates of all districts to take stringent action against the fraudsters under both the Clinical Establishment Act and BSKY Enforcement Norms.
Secretary Health & Family Welfare said, "Health is a basic human need, and State Government is committed to provide quality health care to citizenry of the State. Government has also rolled out BSKY with adequate fund provisions".
"Any attempt to miss-utilize the provisions or cheat people in any manner in the name of BSKY", warned Shrimati Pandit "will be seriously dealt with".
Further, Secretary Health & FW advised people either to directly call toll free numbers or contact District Coordinators (DCs) and Swasthya Mitras (engaged in private sector BSKY empanelled hospitals) for any query, doubt or help regarding BSKY card, its auto-renewal, use etc.
District Coordinators of BSKY are available at district head quarters in office of the Chief District Medical and Public Health Officer ( CDM & PHO) of the concerned district, and Swasthya Mitras are available in empanelled hospitals at BSKY counters. Generally, CDM & PHO) offices are located in district head quarter hospitals.
She has made it clear to the people that no charge is collected for renewal of BSKY card from any card holder. State Government renews all cards automatically each year, and card holders continue to get cashless treatment as per the entitlement without any break.
The families having smart BSKY card or the families enrolled under food security schemes are entitled to get BSKY benefits. People are advised to directly contact toll-free number 155369 for any card related problem. The personnel at the call centre will take necessary steps for resolution of their issues, and provide necessary information. People can also make pre-contact with toll free number 104 for cashless treatment in any of the empanelled hospitals of their choice.
They also can reach directly at the BSKY counter of the hospitals and take the help of Swasthya Mitras. Besides, people can also communicate their doubts and grievances through toll free number 14545, Twitter account @bskyodisha and Facebook account bskyodisha.
Secretary Shrimati Pandit directed to create wide awareness about these G2C connect points provided under BSKY. The District Coordinators and Swasthya Mitras were also asked to handhold the people with missionary spirit and provide them complete information as per their requirement.