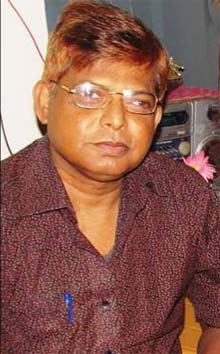 Bhubaneswar: Veteran Journalist Alaya Kumar Mohanty has passed away.
He was being treated in Capital Hospital and today he succumbed to prolonged illness.
Shri Mohanty was 65 and survived by wife, son Deepak Mohanty and two daughters.
Son Deepak is a working Journalist.
A pall of gloom descended in the journalists' circle when the news of Shri Mohanty's death was broken.
Apart from being a man in need for all distressed persons, Shri Mohanty had excelled as a film producer of eminence in Odisha. Odia film 'Sunya Swaroop' produced by Mohanty won national award, many state awards and international accolades too.
He made his debut as a film producer with Odia film 'Aasha' which was also adjudged as the best film of the year by the Odisha Government.

He has also produced a number of documentary films and television serials.
Chief Minister Naveen Patnaik has expressed deep grief over the demise of eminent journalist Alaya Mohanty.

In a message, the Chief Minister said that Shri Mohanty was known as a senior journalist in Bhubaneswar and across Odisha.
He always tried to solve the problems of journalists. Along with this, he has also done a lot of work in the field of social service and film production.
"He was always in the forefront in helping the sick and the poor. His departure has created a great void in the realm of journalism and social service," the CM said while expressing deep condolences to the bereaved family.