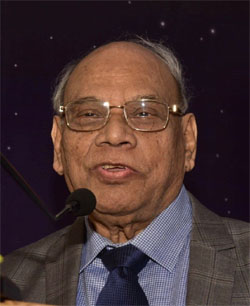 Bhubaneswar: Renowned cardiologist of the state and the country, Jadunath Prasad Das, passed away at a private hospital here on 19 November.
Dr. Das, born on August 5, 1933, an eminent cardiologist and accomplished artist, passed away, leaving an indelible mark in the realms of medicine and art.
A distinguished Fellow of multiple medical societies, he pioneered cardiology in Odisha, earning accolades as the "Father of Cardiology."
Dr. Das, the 6th Qualified Cardiologist of India, authored scientific papers, founded the Cardiology Department in Odisha, and received numerous awards, including a Lifetime Achievement Award by the Cardiological Society of India.
His legacy extends beyond medicine, showcased in solo art exhibitions worldwide.
Dr. Das, a multifaceted luminary, will be remembered for his exceptional contributions.
In his final moments, Dr. Das was surrounded by his devoted family: wife Gayatri Das, a dedicated social worker, son Debabrata Das, daughter-in-law Bidya Das, and granddaughter Ishani Das.
Their presence provided comfort and support. Additionally, numerous eminent individuals joined in paying respects, highlighting the profound impact of Dr. Das's life on both his personal circle and the wider community.