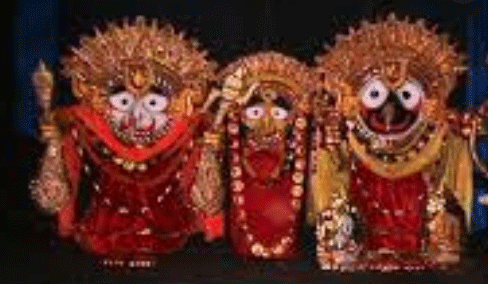 Puri: On the occasion of Pousha Sukla Pakhsha Purnima Tithi, very special rituals are underway at Lord Jagannath Temple here on Monday.
Pushya Abhishek, an important annual ritual of Lord Jagannath and his siblings, is being performed at the world famous Srimandir today. Shree Jagannath Temple Administration (SJTA) has made elaborate arrangements for smooth and timely conduct of the special rituals at the Shrine.
"On the auspicious occasion of Debabhisheka Purnima; Dwar Phita Niti, Patitapaban & Neelchakra Darshan at #JagannathaPuri at 4.40 AM," tweeted SJTA Chief Administrator, Dr Krishan Kumar.
In the morning, Mangala Alati, Mailam, Tadap Lagi, Abakash Niti, Gopal Ballav, Shakala Dhupa rituals were conducted following which Jala Lagi and Sarbanga were performed.
The deities of the 12th century shrine are adorned with gold jewellery embellished with diamond and gems for the special 'Raja Rajeswar Vesha' or 'Suna Besha'.
It is believed that a glimpse of the divine siblings on the Ratna Sinhasan today brings prosperity and goodwill. However, the temple has remained closed down for the devotees since January 10 in view of resurge in Covid-19 infection in India and also in the State.
According to temple tradition, the deities are adorned with gold ornaments five times in a year. While four such events take place inside the temple, only one ritual is held outside the 12th century temple when the deities are on their respective chariots during the car festival.
This 'Suna Besha' is performed inside the temple during 'Pushya Abhishek'. As per tradition, the canopy is installed on the Bhoga mandap after observing many rituals according to the temple rules.
According to Hindu mythology, on Pousha Purnima, Lord Ram was coronated upon his return to Ayodhya after staying in exile for 14 years. The Deities along with other Gods, Devas and Saints assembled near the sea at Puri. Therefore the sea is also worshiped on the day. Samudra Aarti is observed to offer prayer to all Gods in the earth. It is also believed that it is a rare opportunity in a calendar year to pray to all the gods at a single holy spot.
Likewise, 'Pushyabhisek' rituals were also conducted at Alarnath in Brahmagiri. The deity in the Alarnath temple was made to bath in 108 pitchers of water, and adorned in 'Rajadhi Raj Vesha'. The water for the bath ritual was collected from 'Pancha Tirtha' earlier.
Meanwhile in Western Odisha, people celebrated the agrarian festival 'Pushpuni' today. The festival also has significance in the farming community as the farmers celebrate their paddy harvest.
Almost all the households were filled with the aroma of sweets, peethas and non-vegetarian dishes on Pushpuni. There is also an age-old tradition of youths going around the villages in groups dancing, singing folk songs and asking for 'Chher Chhera'.