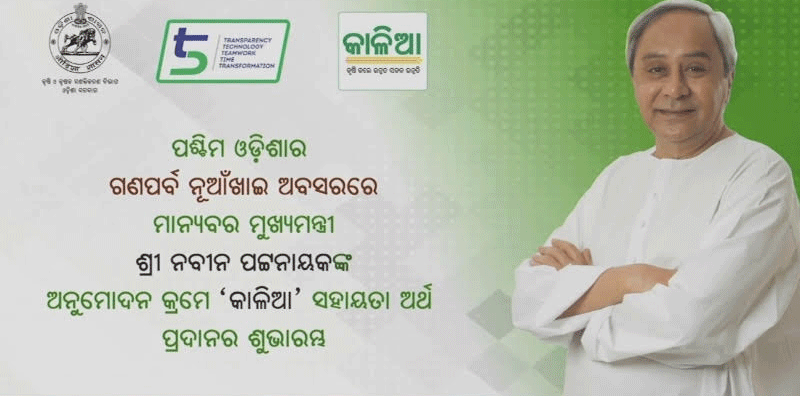 Bhubaneswar: Odisha Government released financial assistance of Rs 869 Crore to 41.85 lakh farmers under KALIA scheme and assured the cultivators of aid over the crop loss due to the recent floods soon.

Chief Minister Naveen Patnaik said "An amount of Rs 2,000 each was directly transferred to the bank accounts of 41 lakh small and marginal farmers and other 85,000 landless farmers in Odisha".
This is done under the state's flagship the Krushak Assistance for Livelihood and Income Augmentation (KALIA) scheme for the Rabi crop.

The State Government in 2018 launched the KALIA scheme under which the farmers were being given Rs 4,000 a year as assistance to the cultivators to undertake cultivation without depending on the money lenders. The amount is deposited in the bank account of farmers through Direct Benefit Transfer (DBT) mode.

The Odisha Government had earlier announced that the eligible farmers will receive financial assistance of Rs 2,000 twice a year during the next three years on the occasions of Akshaya Tritiya and Nuakhai. The farmers had on Akshya Tritiya in May this year had received Rs 800 crore.

"Today, on the occasion of Nuakhai, the second installment has been paid to the farmers," a senior official said.

Subsequently, Odisha farmers had received financial assistance under the KALIA scheme on the occasion of Akshaya Tritiya in May. Then 40 lakh farmers were given assistance except those from Jharsuguda district where by-election was held in May. Later the farmers of Jhagrsuguda got the assistance, the official said.

CM Mr.Patnaik said: "Nuakhai is the festival of Mother Earth. All of us are blessed by Mother Earth because of the hard work of our farming community. So farmers are our pride and glory. On this auspicious day, I am very happy to provide KALIA assistance to my farmer brothers and sisters".

CM said that KALIA is the best scheme for farmers in the country. "It has created hope and confidence for small farmers. It is also helping to protect the livelihood of landless farmers," Mr.Patnaik said.

"I hope, this assistance will be of great help in carrying out the farming work," the Chief Minister said.

Mr.Patnaik assured the farmers of assistance due to crop loss owing to the recent floods in the state. He has directed the officials to complete crop damage assessment soon so that the farmers will get assistance at an early date.