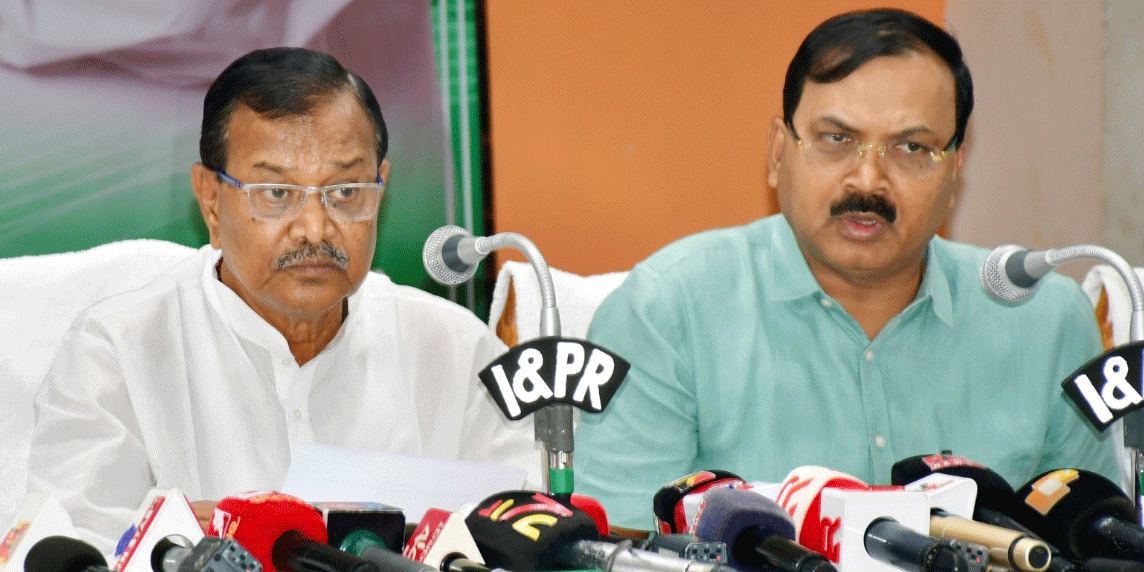 Bhubaneswar: For the protection of wildlife animals and also human beings, the State Government has relocated 820 families from the core areas of National Park and various wildlife sanctuaries, Forest, Environment and Climate Change Minister Pradip Kumar Amat said on Tuesday.
Chief Minister Naveen Patnaik today reviewed the achievements of major projects of the Department of Forest, Environment and Climate Change in the last four years. After the meeting, Amat and Additional Chief Secretary (ACS) Satyabrata Sahu briefed the media about the developmental initiatives taken by the Department.
Shri Amat said the Government has relocated 820 families from the different wildlife sanctuaries by providing an additional grant of Rs 5 lakhs over and above the provisions of NTCA guidelines. The Similipal Tiger Project of the state has been placed in the Excellent Category of the country, he said.
Under Eco-Tourism projects, 49 community managed eco-tourism sites have been developed and made operational. It has resulted in tremendous increase in the visitors' footfall both National and International, he said, adding, annual revenue collection has also increased to Rs 13 crore.
Under the 5T Initiative, Nandankanan Zoological Park has been upgraded with a multilevel car parking facility and toy train facility. Natural parks have been developed in Chandaka & Bharatpur sanctuaries, the Minister said.
Single use plastic ban has been enforced through massive crackdown. Odisha amongst the top States in recording forest and tree cover increase. Between 2019 and 2021, there has been an increase of 893 sq km of forest and tree cover which is one of the highest in the country, he pointed out.
The Minister further said that Odisha has also recorded 8 sq KM increase in the mangrove forest which is highest in the country. The total forest and tree cover of the State is 36.71%.
As a successful implementation of the afforestation program, a total of 371,163 hectares of plantation has been done in the state including 16,346 running km of avenue plantation and during this time 14.4 crore saplings have been planted and 11.04 crore saplings distributed.
Similarly, a total of 61,204 square km area of the state is being surveyed under geo-referencing with the joint efforts of the Forest and Revenue Department. Till today, a re-notification of 260 forest blocks has been issued. Our State is the pioneer State in this regard.
The rising human-elephant conflict is being addressed through engagement of Gaja Sathi and implementation of Jana Surakhaya and Gaja Rakshya.
As per orders of the Chief Minister, the amount of compensation for the victims of human-wildlife conflict has been increased significantly. It has been notified for a compassionate grant @ Rs 6 lakhs for human kill, Rs 1.5 lakhs for less than 60% of physically injured, Rs 2.5 lakhs for more than 60% of physical injured, Rs 5000 to 10,000 for treatment of the injured.
Besides, Rs. 37,500 for death of cow, Rs. 32,000 for death of ox/bull, from Rs 20,000 to Rs 25,000 per acre for crop damage, allotment of Biju Pakka Ghara or equivalent + Rs.20,000 additional amount for full damage house and Rs 10,000 for partially damaged house, ACS Shri Sahu said.
The Chief Minister announced an assistance amounting to a record amount of Rs. 194 crore during the 2022 crop year, which will benefit about 8.15 lakhs beneficiaries. The trade surplus in Kendu Leaf trade is completely shared with Kendu Leaf pluckers and workers, he said.
In the financial year 2023-24, Sahu said, a new scheme namely Mukhyamantri Kendu Leaf Welfare Fund' at cost of Rs.50 crore has been introduced to reimburse the cost due to imposition of GST on Kendu Leaf trade.
The Government has allotted Rs.250 crore for empowering 10,000 Mukhya Mantri Vana Surakshya Kendra and the Vana Surakshya Samiti (VSS.
Odisha Forest Development Society (OFSDS) has implemented Ama Jungle Yojana (AJY), Odisha Forestry Sector Development Project-I, OMBADC Livelihood Development Project, etc. Under the said projects, 6016 Vana Surakhya Samiti (VSS), 21273 Self Help Groups (SHG), and CIGs are working and sustaining their livelihood.