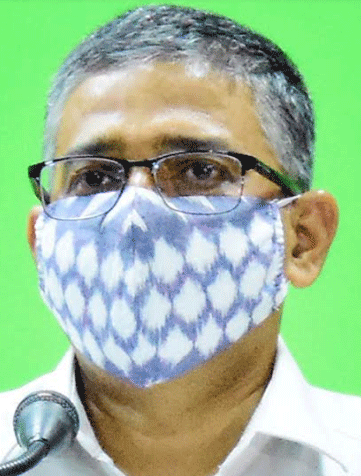 Bhubaneswar: Odisha has vaccinated 61. 52 Lakh beneficiaries as on 9 May with active 19 sites which all are Covaxin  has covered 3683 people.
ACS Health & Family Welfare P K Mohapatra reviewed Vaccination Management on Sunday evening with senior officials of the Department of Health & Family Welfare.
Though a Sunday, State Government preferred to provide vaccine to the beneficiaries.
61, 52, 215 beneficiaries have been vaccinated across the State of which Health Care workers (HCW) with 1st dose are 325612 HCW with 2nd dose are 274462.
Front Line Workers (FLW)s 1st dose are 223423 and FLW 2nd dose are 163394.
Age 18-44 years & above with 1st Dose are 43738 and Age 45 years & above with 1st Dose are 4376264 and age 45 years & above with 2nd dose are 745322.
With Covishield available is (Government of India) 2,69,630, Covishield (State Government) 1,00,000, Covaxin 3,42,300 of Government of India and 1,06,280 Covaxin purchased by Odisha Government, State has planned 669 active sites.
No sessions planned on 10 May in Balasore and Deogarh, said an official on COVID-19 Vaccination Management in Odisha.
Odisha on Sunday registered 10,635 new COVID-19 cases, pushing the caseload to 5,34,842, while the death toll rose to 2,180 with 19 more fatalities, a senior health department official said.
Of the 10,635 new cases, 6,012 were reported from various quarantine centres, and the rest detected during contact tracing, the official stated.
Khurda district, of which state capital Bhubaneswar is a part, recorded the highest number of new cases at 1,564, followed by Sundrgarh at 943 and Cuttack at 887.
Barring Kandhamal and Malkangiri, all other 28 districts reported more than 100 new cases, the official said.
"Regret to inform the demise of nineteen Covid positive patients while under treatment in hospitals," the Health and Family Welfare (H&FW) Department tweeted.
Of the 19 fatalities, three each were recorded in Khurda and Kalahandi. One patient each succumbed to the infection in Angul, Bolangir, Bhadrak, Dhenkanal, Ganjam, Gajapati, Jajpur, Jharsuguda, Puri, Rayagada, Sambalpur, Sonepur, and Sundergarh districts.
This apart, 53 COVID-19 patients in the state have died due to comorbidities.
Odisha currently has 93,287 active cases, while as many as 4,39,322 patients have recovered from the highly infectious disease. The coastal state's positivity rate stands at 5.09 per cent, the official said.
Over 1.05 crore sample tests have been conducted in the state thus far, including 48,757 on Saturday, he added.