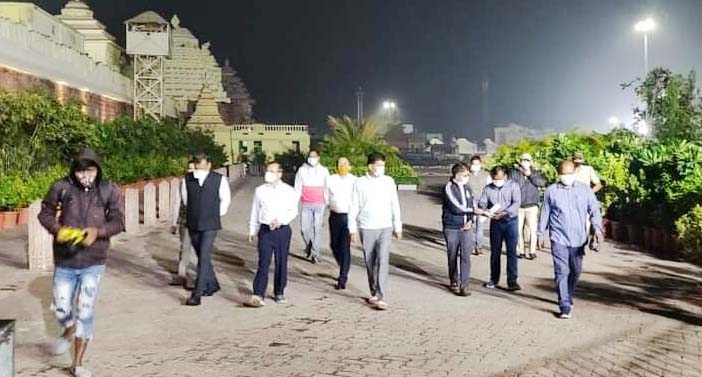 Puri: Secretary to Chief Minister, V K Pandian is sincerely following up the completion the execution of Shree Jagannath Heritage Corridor Project in Puri.
As a follow up to visit and review made by Chief Minister, Naveen Patnaik Secretary 5T, Mr.Pandian held discussions with Team of Officials of the District Administration of Puri.
Development Commissioner, Suresh Chandra Mohapatra, Secretary Works and Chief Administrator Shree Jagannath Temple Administration (SJTA) Krishan Kumar, Collector Puri, Balwant Singh, SP Puri Kanwar Vishal Singhand other senior officials were there.
Mr.Pandian visited heritage corridor and reviewed the progress.
He advised that cleaning of debris to be expedited and expeditious steps are to be taken for construction of the 20 Meter Outer Road.
Secretary 5T also advised the authorities to plan in a parallel mode for shifting of public utilities.
He advised that the land acquisition process to be expedited both for the corridor and buffer areas.
Earlier Chief Minister Mr.Patnaik visited Puri and asked the District Administration to complete land acquisition for the ambitious 'Shree Jagannath Heritage Corridor' within three months.
The State Government has been developing the corridor within a 75-meter radius of the 12th century Shree Jagannath Temple.
Odisha Government implementing an ambitious program, Augmentation of Basic Amenities and Development of Heritage and Architecture(ABADHA), the umbrella scheme that aims at transforming Holy City into a World Class Heritage City.