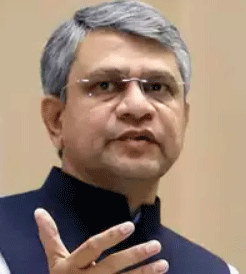 Bhubaneswar: Union Minister for Railways, Communications and Electronics & Information Technology, Ashwini Vaishnaw on Sunday said high-speed 5G internet service will be rolled out in a few cities of Odisha by March 2023.
Speaking to media persons here, the Union Minister said, "In first phase of rollout, 200 cities of India will be connected with the 5G network. In this phase, all big cities of Odisha will also receive a 5G network by the end of March, 2023."
By the end of 2023, under phase-II, around 80 percent of the State will be covered under the high-speed internet service, he announced.
All the big cities will be covered in phase -1 and the service will be subsequently extended to semi-urban areas and then, rural areas, said Mr.Vaishnaw.
On development of Bhubaneswar railway station to a world class station, the Railway Minister said he has requested his elder brother and Union Minister Dharmendra Pradhan to conduct Bhumi Puja. After that physical work will begin for the mega project, he informed.
Minister said the State Government has handed over the project to the Ministry of Railways and soon it will done.
Puri Railway Station will be a World Class Railway Station and façade will be like Shree Jagannath Temple. In Odisha large number of railway stations will be modernized like world Class Railw Station.
When asked about Khurda-Bolangir railway line, he said, "After following up with the Odisha Government, they have cleared the forest diversion proposal and the hurdle for around 100 km of the line has been shorted out. Now, the work for the dream project of Odisha will be completed in some month."
Mr.Vaishnaw said he has taken an "Egoless" approach and to do the work officials may visit Revenue Inspector, Tahsildar office.
The Union Minister has inaugurated India's First Aluminum Freight Rake – 61 BOBRNALHSM1 at Bhubaneswar Railway Station today. The rake's destination is Bilaspur.
This is a dedicated effort for Make in India program as it has been fully designed and developed indigenously in collaboration with RDSO, HINDALCO and Besco Wagon.
It is fully Lock-bolted construction with no welding on superstructure. The tare is 3.25 tons lower than normal steel rakes, 180 ton extra carrying capacity resulting in higher throughput per wagon.
The reduced tare will reduce carbon footprint as lower consumption of fuel in empty direction and more transport of freight in loaded condition. A single rake can save over 14,500 tonnes of CO2 over its lifetime, said the Minister.
It will also have lower maintenance cost due to higher corrosion and abrasion resistance.