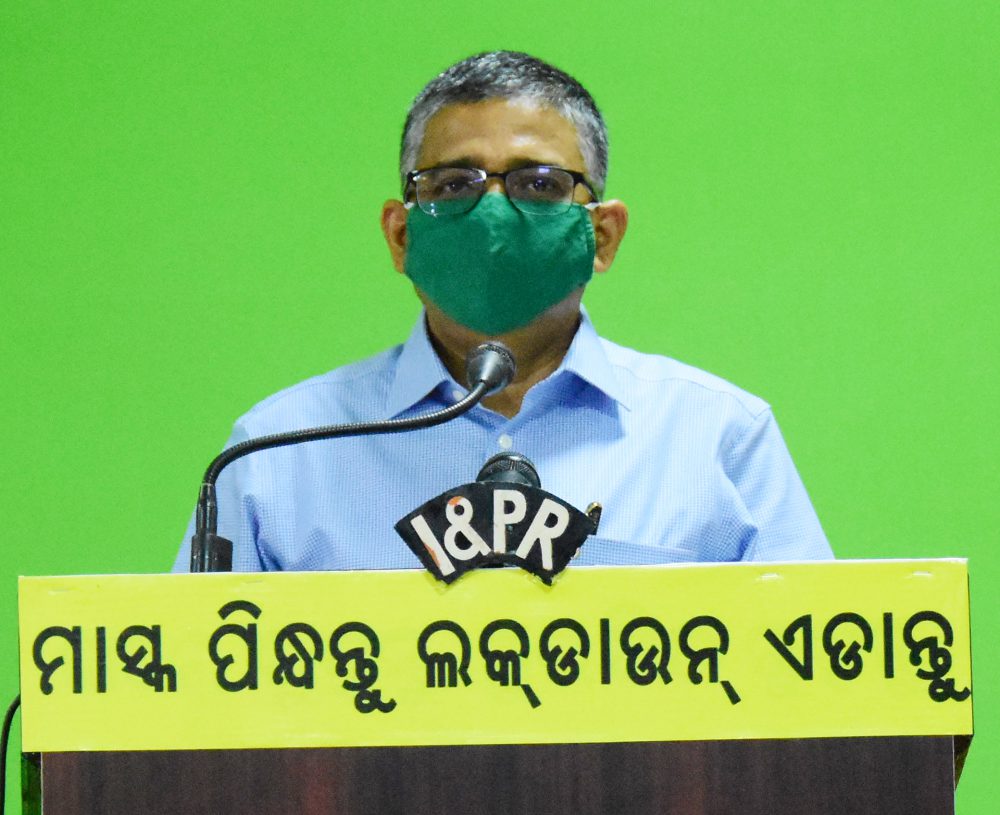 Bhubaneswar: As on date more than 59 Lakh people have been vaccinated in Odisha, while more could have been covered but due to shortage of Covishiled vaccine only over 46,000 people were covered on 3 May.
With Phase III Vaccination rolled out While Phase 3 vaccination drive commenced from 1 May, 2021 and all citizens aged 18 years and above are eligible for COVID-19 vaccination.
On 3 May, 46,663 beneficiaries are covered in 247 active sites of which 29 are Covaxin. Cumulative vaccinated are 59,04,314
ACS Health & Family Welfare, P K Mohapatra took review of Vaccination Management on 3 May.
Mr.Mohapatra pointed out to District Collectors that MoHFW have already ceased the supply of vaccines to Private CVCs for the vaccination in private CVCs from 1May 2021.
As a result there will be certain number of beneficiaries who had received their 1st dose, at private CVCs but were yet to complete the two dose vaccination schedule.
In this regard, it is informed that all such beneficiaries (HCWs/FLWs/45 years. & above citizens) who had taken 1st dose at a private CVC on or before 30 April 2021 will be eligible to receive 2nd dose at Government, CVCs free of cost using Government of India supplies,
They can also avail 2nd dose In Private CVCs being run under the "Other than Government of India, channel' on payment basis at the rate fixed by such private CVC.
District Collectors and Municipal Commissioners were requested, to follow the above instruction in your district and plan vaccination sessions accordingly. This has to be treated as "MOST URGENT'.
In another issue Department of Health & family Welfare pointed out that as on 29 April 2021, 8,90,918 beneficiaries (HCWs FLWs / 45 years & above) are already due for 2″d dose vaccination but due to limited supply of Covishield vaccine by the Govt. of India, MoHFW, we could riot vaccinate the due beneficiaries in time.
 In order to streamline the 2nd dose vaccination drive the following instructions are to be followed for Covishield vaccine.

While scheduling a session at a CVC, first those beneficiaries who are due for 2nd dose are to be covered.
The second dose of Covishield is to be preferably administered between 6 to 8 weeks. 2
List of the beneficiaries due for the 2nd dose at each centre can be accessed from the COWIN Portal. Facility in-Charge / MO shall mobilize these beneficiaries due for 2nd dose vaccination with the support of ASHA / AVVVVs / Volunteers etc and vaccinate them after adding them to the session through Spot allotment.
If vaccine remains available after catering to the 2″d dose beneficiaries, it should be used for first dose of left out FLW 1 HCW. 4.
After saturating the requirement of 2″d dose due beneficiaries, HCWs ad FLWs, other categories can be covered, if vaccine is available.