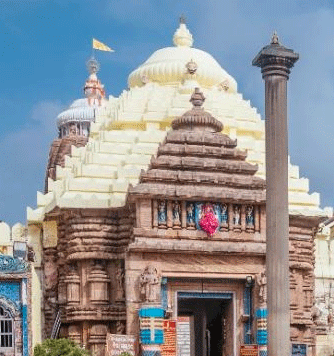 Bhubaneswar: The State Government has made an expenditure of Rs 544.57 crore for development of Shree JagannathDhamat Puri under Augmentation of Basic Amenities & Development of Heritage and Architecture (ABADHA) scheme during the last financial year 2021-22.
This was mentioned in the Departmentally Related Standing Committee report on the Department of Works. The report was laid before the Assembly recently.
The ABADHA scheme was launched in the year 2017-18 with an aim to preserve, revitalize and develop the 'Heritage City' of Puri and to reflect the city's unique character by encouraging development of an authentically appealing, aesthetically pleasing, accessible, informative and secured environment. Following the devastation caused by very severe cyclone FANI, the State Government had announced thatPuri will be developed into a 'World Class Heritage City'.
Keeping this in mind, the State Government has lined up a bunch of infrastructure projects around ShreeJagannath Temple in Puri including the Shree MandirParikrama Project (SMPP) under the scheme.
By the end of March 2021, action was taken for 4 laning of 19.03 km of road length in seven stretches with a cost of Rs 97.62 crore, of which Rs 28.54 crore was utilised with construction of 8.66 km road.
During the financial year 2021-22, against the budgetary provision of Rs 544.57 crore, Rs 544.56 crore has been utilised that include major components of land acquisition. Moreover, road length of 2.09 km has been improved with an expenditure of Rs 9.62 crore.
Further, tender for construction of high-level bridge over Mangala River connecting the road between Sterling Resort to Samukha Beach Project at Puri with a cost of Rs 82.22 crore is under process, as per the report.
The State Government has made a budget provision of Rs 1324.92 crore under the scheme during the current financial year 2022-23.
Similarly, the Government has utilised Rs 350 crore towards land acquisition under the EKAMRA plan launched for the development of EkamraKshetra (Lord Lingaraj Temple area) in Bhubaneswar, during the year 2020-21 and 2021-22. Budget provision of another Rs 200 crore made under the scheme for the current year 2022-23.
The State has also spent Rs 200 crore under Samaleswari Temple Area Management and Local Economy Initiatives (SAMALEI) scheme, which has been taken up for the beautification and peripheral development of the famous MaaSamaleswari temple in Sambalpur. The amount was spent during 2021-22 while provision of another Rs 200 crore has been made for the current year.
For integrated development of heritage, monuments and tourist destinations, the Department of Works has taken up improvement and widening of 6 lane road from Chandrabhaga to Kakatpur junction and Konark ring road with a cost of Rs 37.70 crore, which is under progress.
Similarly, work for development of Maa Tara TariniPitha with a cost of Rs 24.80 crore and development of Samarjhola Tank in Ganjam district at a cost of Rs 5.87 crore is under progress.
An expenditure of Rs 150 crore has been made under the scheme during last year while provision of another Rs 150 crore during the current year of 2022-23.