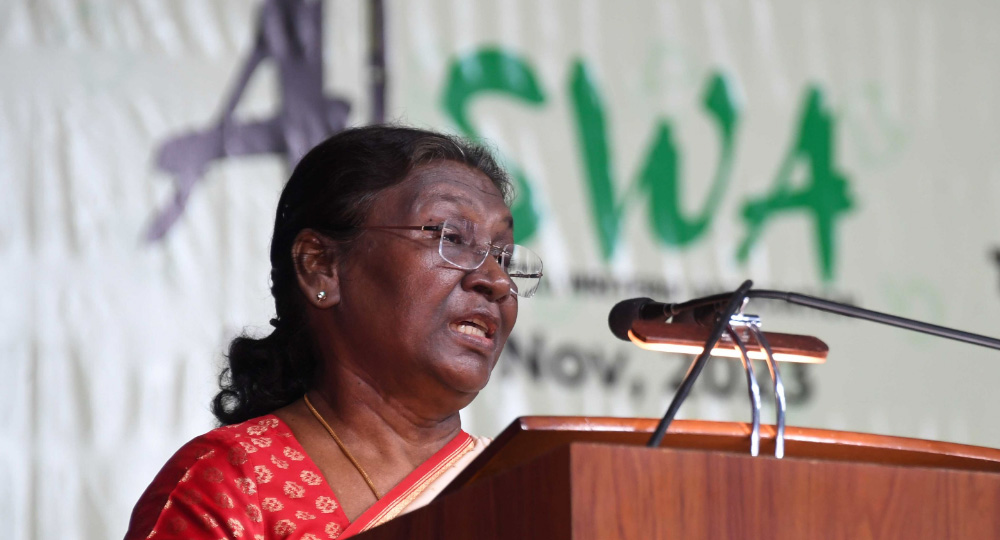 Baripada: President Droupadi Murmu today appreciated writers and researchers who are contributing to the Santhali language and literature.
Shrimati Murmu said while inaugurating the 36th Annual Conference and Literary Festival of All India Santhali Writers' Association at Baripada today.
Speaking on the occasion, the President of India said that All India Santali Writers' Association has been promoting Santhali language since its establishment in 1988.
She noted that use of Santhali language has been increased in Government and non-Government sectors, after its inclusion in the Eighth Schedule of the Constitution on 22 December, 2003.
She remembered former Prime Minister Atal Bihari Vajpayee, on the occasion, during whose tenure Santhali language was included in the Eighth Schedule.
The President said that most of the Santhali literature was available in the oral tradition. Pandit Raghunath Murmu has not only invented the Ol Chiki script, but he has also further enriched the Santhali language by composing plays like 'Bidu Chandan', 'Kherwal Bir', 'Darege Dhan', 'Sido- Kanhu – Santhal Hool'.
Shrimati Murmu highlighted that many Santhali writers are enriching Santhali literature with their works and said that it is a matter of pride that Damayanti Besra and Kali Pada Saren – popularly known as Kherwal Saren – have been honoured with Padma Shri in 2020 and 2022 respectively for education and literature.
Stating that authors are vigilant watchdogs of society, she said the writers make society aware and guide it through their work. Many litterateurs showed path to our national movement during the freedom struggle. She urged writers to continuously create awareness in the society through their writings.
Building a strong and vigilant society is possible only through continuous awareness, Shrimati Murmu said.
The President further said that literature is a mirror of the culture of a community. Natural co-existence of humans with nature is seen in the tribal lifestyle. The tribal communities believe that the forest does not belong to them but they belong to the forest, she pointed out.
As climate change is a huge challenge and nature-friendly living is very important to tackle this issue, she urged writers to write about the lifestyles of tribal communities so that other people could know about the life values of tribal society.
The President said that readers of Santhali language should also be introduced to the literature of other languages through translation. She underlined the need for similar efforts to make Santhali literature reach the readers of other languages.
"There is a need to keep children engaged in self-study right from the beginning. Anyone can become a good reader by doing self-study since childhood. Emphasis should be laid on creating interesting children's literature not only in Santhali literature but in all Indian languages," Shrimati Murmu added.
The President arrived here on a two-day visit to Odisha. This is her second visit to home district.