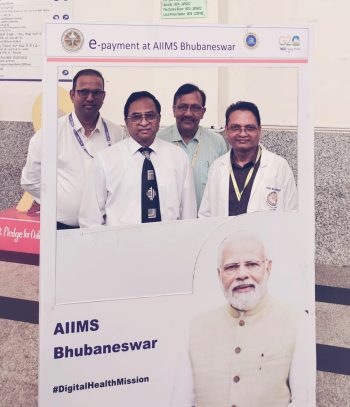 Bhubaneswar:In a first of its kind initiatives in any AIIMS across India, AIIMS Bhubaneswar has launched an e-payment facility for the public today.
This facility will enable patients and their relatives to pay their fees online in a quick and convenient manner, using any UPI, wallets, credit, debit cards and net-banking through AIIMS Bhubaneswar Swasthya App.
Launching this facility, AIIMS Bhubaneswar Executive Director Ashutosh Biswas said that to make the institution paperless, e-payment gateway is a step forward.
The online payment system will also allow patients and their relatives from all over the country to securely pay their fees in a timely manner from the comfort of their homes or offices, he said.
To embrace the Digital India Mission of the Prime Minister and to facilitate the public to save time, the national institute has opted for a digital payment system. The system will certainly help the public for the expedition of the treatment process, added Biswas.
This service is available from today itself. To get the benefit of the e-payment system of AIIMS Bhubaneswar, an individual has to follow a few steps for smooth use of the facility.
In the first step the individual has to download "AIIMS Bhubaneswar Swasthya app" from the Google Play store. In step 2, he/she has to login with the registered mobile number. Then the beneficiary will be provided an OTP number. After entering the OTP, the Swasthya App page will be displayed. Then the user has to select the billing process after which the digital payment process will be there.
Then, the user has to select the desired option as convenient. After the process completes, a receipt will be displayed which can be downloaded for further use.
After the payment process gets completed, the patients need to visit the sample collection counter directly avoiding long queues at the billing counter.
Among others, Medical Superintendent Dillip Kumar Parida, IT Chairman Manoj Kumar Mohanty and IT department members were present on the occasion.
It may be noted here that AIIMS Bhubaneswar has already implemented the e-Shushrut (HMIS), HRFMS, e-office system to embrace the digital India Mission objectives.
AIIMS Bhubaneswar will inform the public to use this e-payment facility more to avoid long queues and rush.