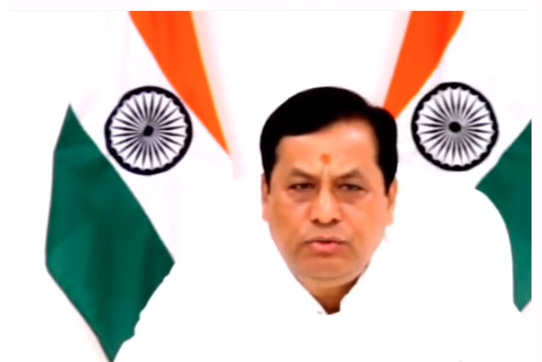 Bhubaneswar: In the run-up to the third edition of the Global Maritime India Summit (GMIS) 2023, the Ministry of Ports, Shipping & Waterways (MoPSW) organised a roadshow here at Mayfair Convention, today.
In a special address, Union Shipping Minister Sarbananda Sonowal said that India is on the cusp of a new era in its maritime sector and that the country is beginning a journey of progress through technological advancements and infrastructure enhancement for a welcoming business environment.
"These roadshows exemplify our commitment to fostering linkages and collaboration in order to advance the Indian Maritime Industry. The Aatmanirbhar Bharat vision and establishing GMIS 2023 as a hub driving growth while supporting our Government's broad goals are essential to our transformational journey towards maritime excellence," he said.
India is strengthening its position as a global centre for the blue economy, taking the lead in crafting the next phase of South Asia's maritime history. This roadshow highlights both our shared cultural ties and our commitment as a group to make a substantial regional impact, he said.
Shantanu Thakur, Minister of State for Ports, Shipping & Waterways, conveyed his perspective on the summit's objectives, highlighting, "Today's event mirrors our nation's collective maritime aspirations, underlining Bhubaneswar pivotal role in this united voyage."
Maritime India sets sail towards a transformative future with the ambitious Vision 2030! From record-breaking cargo traffic and port capacity growth to cutting-edge legislative reforms, India's maritime sector charts a course for international excellence, Thakur said.
The world takes note as India's Maritime prowess continues to surge, contributing 12 percent to global seafarers and fostering port-led industrialization, he added.
He further emphasized on the strategic importance of promoting maritime development and connectivity in a region like Bhubaneswar, which holds both historical maritime significance and considerable economic promise.
Bhushan Kumar, Joint secretary, Ministry of Ports, shipping and waterways, Government of India added, "We anticipate a surge in automated ports and terminals as we have strategically aligned all future developments under the Public Private Partnership (PPP) mode. This partnership with the private sector is poised to not only elevate the efficiency of our ports but also revolutionize their performance and enhanced productivity standards."
PL Haranadh, Chairperson, PPA in his welcome address said that "The GMIS 2023 is a great opportunity not only for Paradip Port but also for other ports of Odisha like Gopalpur, Dhamra, Subarnarekha, and Astaranga ports. All these ports should not compete, but collaborate and cooperate with each other to provide a logistically convenient ecosystem to all the stakeholders in Odisha"
Hemant Sharma, Principal Secretary, Industries, said that "Our government sails full steam ahead in recognizing the maritime sector's pivotal role in our nation's industrial development. As we set sail towards the Global Maritime Investment Summit 2023, it's a tide of opportunity for our maritime industries."
"We invite global investors to ride this wave, boosting growth, jobs, and innovation in our maritime businesses. Join us at the summit to not only showcase our industry but also chart a course for collaboration, forge partnerships, and navigate toward a brighter future together," Shri Sharma said.
Commerce and Transport Principal Secretary, Usha Padhee said, "We will be bringing in our ideas and thought processes, which can be shared, and I request all our entrepreneurs here, who are the stakeholders in the entire domain, to be a part of it. Together, we can grow, and we can be the leader, which we deserve at the global level".
V Janardhana Rao, Chief Executive Officer, Gopalpur Ports Limited and Sanjeev Kumar Gupta, COO, Dhamra port, also spoke on the occasion and gave a brief about their respective ports' vision and contribution to the state economy.
The 7th roadshow, led by the Port of Paradip, paves the way for the Global Maritime India Summit 2023, happening from October 17-19, 2023, at Bharat Mandapam, ITPO, Delhi.