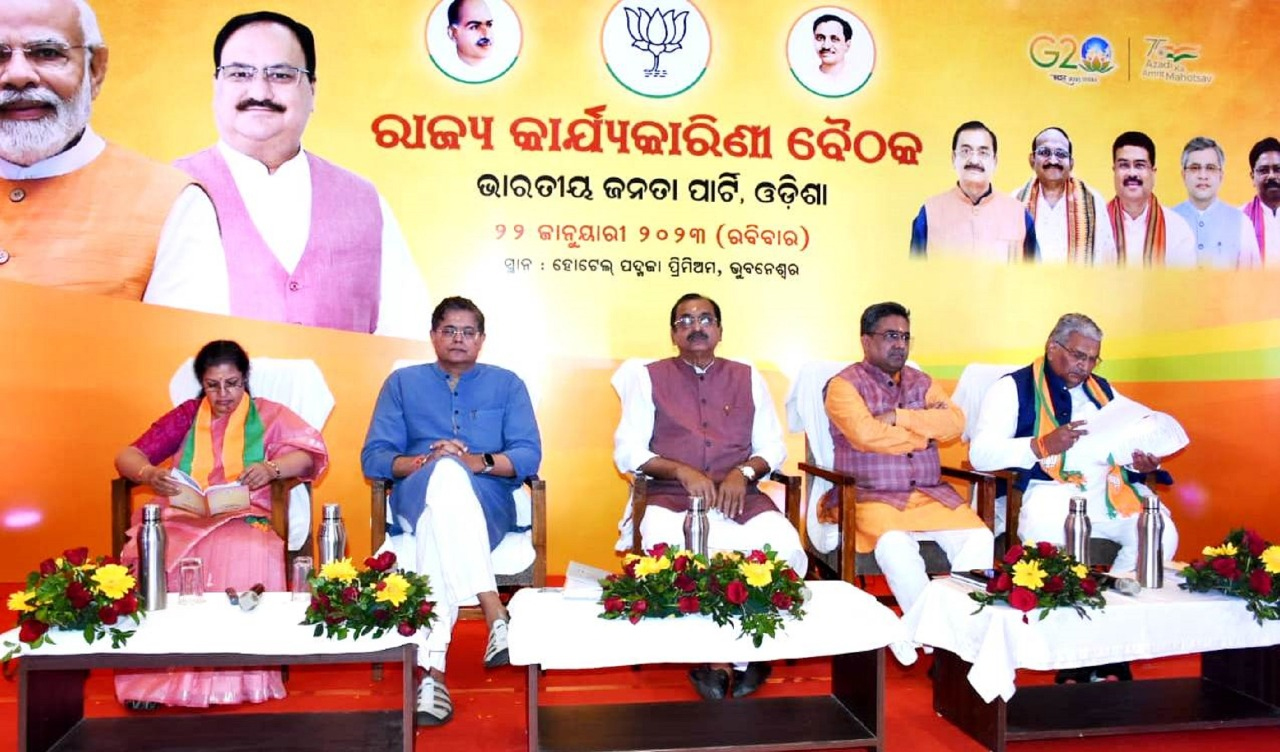 Bhubaneswar: Saffron Brigade will focus on the booth level management of activities to strengthen the party at the grassroots level even as the ruling said the meeting is an effort to boost the sagging morale of the party.
Golak Mohapatra, General Secretary State BJP breiefed Media after the conclusion of the two-day meeting of the State Executive here, that the Party has chalked out a two-point strategy to boost the party's winning prospects in the upcoming elections.
"In order to strengthen the party at the grassroots level, our focus is now on booths. Some leaders of the party will be given responsibilities of mandals (circles) and they will reach out to the booth level," he said.
BJP will make all the party members active in all booths and take various welfare schemes of the Centre to the people in next three months.
Shri Mohapatra said the party members will also highlight the hijacking of various central schemes by the Odisha Government apart from exposing the incompetence of the Government.
He said strengthening the organisation at the booth level is the first point of the party's two-point strategy which will help the party win elections in the coming days.
He said the second point of the strategy is to take up 'political fight' against the State Government.
He alleged that the Pradhan Mantri Awas Yojana (PMAY) portal was opened thrice since 2019, but the Odisha Government did not make any single entry of beneficiaries. Depriving eligible beneficiaries of PMAY houses is the aim of the State Government.
Shri Mahapatra said that party will highlight before the people how the BJD government is preventing eligible beneficiaries from getting PMAY houses. The BJP will hit the streets and sensitise people about the problems.
Party members will visit mandis and inquire into alleged non-procurement of paddy, katni-chatni among other issues being faced by farmers will be dealt firmly.
The two-day state executive committee meeting was attended by State Observer, Sunil Bansal, D Purandeswari, President Samir Mohanty and BJP National Vice-President Baijayant Panda, among others.
The State Executive Committee meeting passed several resolutions including on political situations, law & order, unemployment, agriculture, education and sports infrastructure, corruption, empowerment of women, health and drinking water issues.
In one resolution the party alleged that a 'state of stalemate' has gripped the State Administration and it is being controlled by the few officers, which is resulted in poor governance.
The resolution cited the report of National Crime Research Bureau (NCRB) to say that daily nine rapes and eight murders are reported in the State.
In yet another resolution the saffron party expressed concern over the degradation of agriculture and growing miseries of the farmers.
In a resolution on the State's education scenario, the party said that nearly a third of the State's schools do not have Headmasters.
The tribals and other backward castes are being systematically ignored in state, another resolution alleged, pointed out Shri Mahapatra.