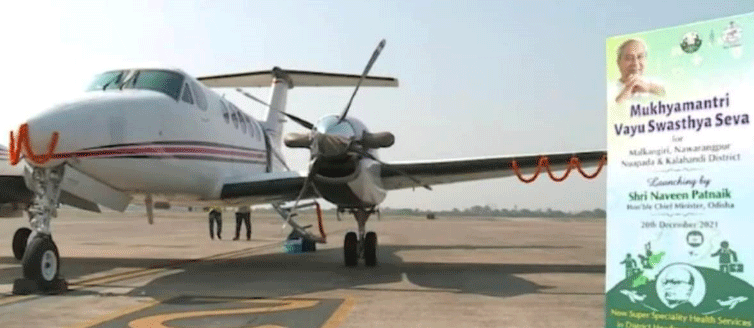 Bhubaneswar: The State Government has made an expenditure of Rs 34.36 lakh to provide critical healthcare service to 5549 patients under Mukhya Mantri Bayu Swasthya Seva (MMBSS) scheme.
This was informed by Health and Family Welfare Minister Niranjan Pujari in the State Legislative Assembly on Monday.
In a written reply to a query of BJP MLA Nauri Naik, the Health Minister said State Government has launched the Mukhya Mantri Bayu Swasthya Seva scheme in September 2021 to provide modern healthcare facility by super specialty doctors to patients of remote area of Nuapada, Kalahandi, Nabarangpur and Malkangiri districts.
Under the scheme, so far, medical teams have been sent 12 times to the four districts and then have treated 5549 patients with an expenditure of Rs 34.36 lakh.
Highest Rs 17 lakh spent to provide the service in Kalahandi district while Rs 6.46 lakh spent for Nabarangpur district, Rs 5.92 lakh for Nuapada and Rs 4.71 lakh for Malkangiri district.
Out of the total provision of Rs 59 lakhs, the State has utilised Rs 34.36 lakh. The scheme will remain in force for five years from its launch, Pujari said.
The specialized doctor teams have flown to Nabarangpur three times and provided healthcare services to 2035 patients. Similarly, 914 patients of Malkangiri, 1550 patients of Kalahandi and 1050 patients from Nuapada districts got healthcare services, so far.
Chief Minister Naveen Patnaik has launched the scheme to provide quality health service to the people belonging to the remote parts of the state free of cost.
Under the scheme, specialist doctors are flown to remote areas of the state to treat patients admitted into their respective district headquarter hospitals.
The State Government has come up with such an innovative scheme as most of the eminent doctors from Cuttack and Bhubaneswar are reluctant to go to these districts on duty.
Though the State Government has announced several lucrative incentives to motivate the doctors to serve the areas for at least three years in these respective districts, most of them are still reluctant to go.