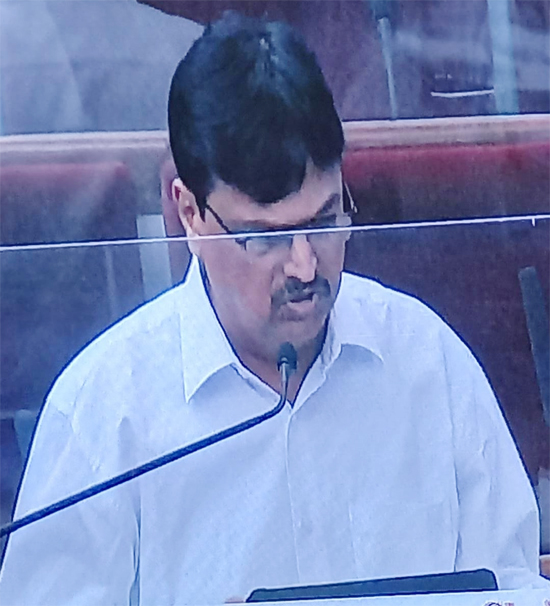 Bhubaneswar: Minister Finance, Niranjan Puari on Saturday presented the Annual Budget for the year 2022-23 in the State Legislative Assembly with a total outlay of Rs 2 lakh crore, which is the highest ever allocation in the history of Odisha. 
The Budget size is Rs 30,000 crore more than the Annual Budget of last fiscal 2021-22.
"The fiscal space created has been effectively employed for creation of physical, social and human capital. Over the last twenty-two years, there has been a seventeen-fold increase in budget size and this year, we are touching the landmark figure of Rs 2 lakh crore," Mr.Pujari said.
The Program expenditure has shown a twenty-eight-fold increase and Capital spending has increased by about fifty times during the same period, he said.
Total Program expenditure outlay for the financial year 2022-23 estimated at Rs 1 lakh crore, which is half of the entire budgetary allocation. In addition, Rs10,000 crore will be spent through off-budget sources and by Public Sector Undertakings (PSUs), he said.
Total Administrative Spending will be Rs.89,590 Crore during 2022-23.
The outlay for Disaster Risk Management Fund will be Rs.3,210 crore. Transfers from State will have an outlay of Rs.7200 crore, said the Finance Minister.
The capital outlay in 2022-23 is Rs.38,732 crore, which is about 5.4 per cent of GSDP and 56 per cent increase over the previous year. Additionally, loans and advances, grants for creation of capital assets and other expenditure for capital formation together account for Rs.11,933 crore, which is an additional 1.7 per cent of GSDP.
Informing about financing for the year, Mr.Pujari said the outlay is proposed to be financed mainly through revenue receipts of Rs.1,63,967 crore and borrowing and other receipts of Rs.36,033 crore.
The total revenue receipts for the year 2022-23 include State's share in Central Taxes for Rs.36,978 crore, State's Own Tax revenue for Rs.46,000 crore, Own Non-tax revenue for Rs.48,200 crore and grants from Centre for Rs.32,789 crore. Thus, the Own Revenue/GSDP ratio would be 13.20 per cent in 2022-23, he informed.
"As a sign of our economic prosperity, the share of our own revenue in the State Budget has exceeded the devolution from the Central Government by a substantial margin," he said.
Today Odisha is on the path of all-round development as envisioned by Chief Minister Naveen Patnaik. His 5T Mantra has been the mainstay of the Government's development programs and transformation agenda, he said, adding, the State Government has taken up significant initiatives for transformation in healthcare, education and agriculture on a mission mode.
This budget focuses on achieving inclusive prosperity through human development, creation of physical and social infrastructure, provision of social safety nets for the disadvantaged and vulnerable sections and empowerment of women, youth, Scheduled Tribes, Scheduled Castes, Other Backward Classes, Minorities, differently-abled and senior citizens.
A total sum of Rs.12,624 crore has been proposed for public health care, which is an increase of about 25% over previous year's provision. Similarly, an allocation of Rs.27,324 crore has been made for the education and skill development sector.
For conserving and developing the places of religious and cultural importance, the Finance Minister has allocated Rs.1,950 Crore under different schemes during 2022-23.
This includes an outlay of Rs.1,325 crore under ABHADA, Rs.200 crore each under EKAMRA and SAMALEI, and Rs.150 crore under Integrated Development of Heritage, Monuments & Tourists Destinations in the budget.
Stating our road infrastructure is one of the best in the country, Mr.Pujari said, "To further improve road infrastructure for the upcoming industrial regions and their connectivity with the mineral hinterlands and ports, it has been proposed to allocate about Rs.14,454 crore during the year 2022-23 for construction and improvement of roads in the State."
Apart from that around Rs.2,970 crore will be utilized for maintenance of the existing roads, he stated.
Similarly, Rs.830 crore has been earmarked for development of tourism sector, Rs.911 crore for sports, Rs 7850 crore for rural drinking water supply, Rs.7,258 crore for Housing & Urban Development Department, Rs.2,000 crore for the Mission Shakti Department, Rs.2,001 crore under MGNREGA, Rs.32,596 crore under Tribal Sub- Component and SC Sub- Component, Rs 3337 crore under social security pension schemes, Rs 1023 crore for Re1 per kg rice scheme, Rs.3,482 crore for power sector, Rs.1,269 crore industry & MSME sector, Rs.2,217 crore for the forestry sector, Rs.7,551 crore for judiciary and Rs.3,262 crore for Disaster Management.