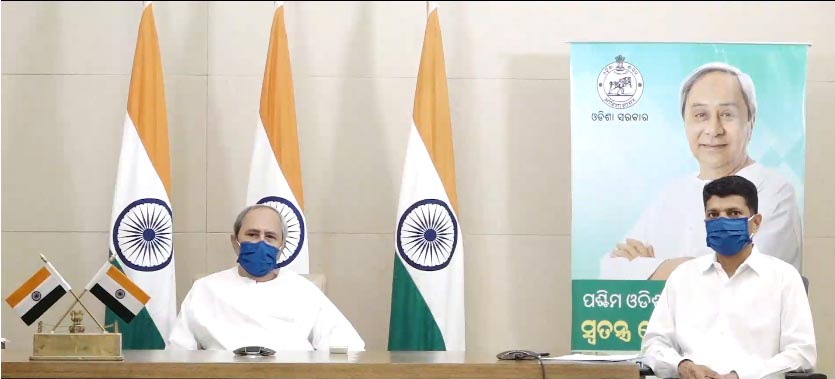 Bhubaneswar: Chief Minister Naveen Patnaik today announced a special assistance of Rs 25 crore for the management of COVID-19 in 11 districts of Western Odisha through video conferencing.
Earlier last month, Rs 25 crore was announced for 11 districts in Western Odisha. The Chief Minister today dedicated the emergency equipment purchased to come to aid to the service of the people.
The money has been used to procure all the emergency items in 11 districts of Western Odisha in Bargarh, Balangir, Kalahandi, Sambalpur, Sundargarh, Nuapada, Jharsuguda, Boudh, Subarnapur, Deogarh and Anugul.
Arrangements have been made for ventilators, oxygen pipelines, auto analysts, CBC machines, and oxymeters. The Chief Minister hopes that this additional financial support will further strengthen the coveted infrastructure in these districts.
On the occasion, the Chief Minister expressed his confidence that "with the joint efforts of all, we will get rid of this crisis soon."
As the situation in COVID has improved in Western Odisha, the Chief Minister has given all the credit to the people of the area. The doctors, health workers, anganwadi and others who work at the forefront are all thanked for their sacrifice and hard work. He hopes the situation will improve further.
The Chief Minister thanked the Western Odisha Development Council for taking the lead in strengthening health infrastructure in 11 districts of West Odisha, adding that more funds are being given to the WODC to implement more development work. The Chief Minister hoped that the Development Council would carry out its responsibilities successfully.
The Chief Minister said that the state government was providing free medical care to cope with the Virus. In the supply of oxygen, Odisha has created a new identity and saved many precious lives. "Every life is precious in this time of crisis," he said, adding that "we are continuing our efforts to ensure that everyone has access to quality medical care."
The function was attended by Planning and Coordination Minister Padmanabha Behera, Finance Minister Niranjan Pujari, Women and Child Development Minister, Tukuni Sahu, Rural Development Minister, Sushant Singh, Energy Minister, Divyashankar Mishra, Deputy Chief Whip, Rohit Pujari and MPs.
Asit Tripathi, Chairman, Western Odisha Development Council, delivered the welcome address. Among others, PK Jena, Development Commissioner Additional Chief Secretary, Department of Health, P.K. Mohapatra and other senior officials were present.
Chief Minister's Secretary 5T V K Pandian conducted the program.