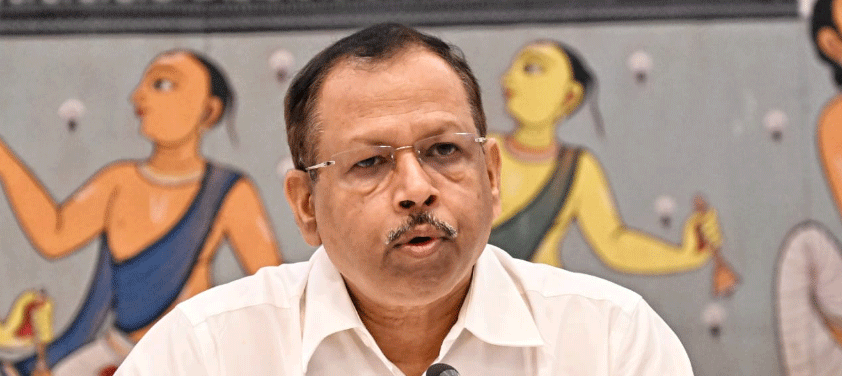 Bhubaneswar: The State Cabinet on Monday approved tenders for execution of eight rural drinking water supply projects worth Rs 2312.11 crore in Ganjam, Bolangir and Gajapati districts.
On the occasion of completion of the fourth year of the fifth term of his Government, Chief Minister Naveen Patnaik today chaired the State Cabinet meeting, in which 18 important proposals including the tenders for the drinking water supply projects were approved.
Speaking to media persons, Chief Secretary Pradeep Kumar Jena said supply of safe drinking water to the people living in the rural areas is one of the priority areas of the State Government.
Accordingly, the State Cabinet has approved the lowest tender amounting to Rs. 1509.91 crore for execution of a mega piped water supply project to provide safe drinking water in Ganjam district out of JJM (Jal Jeevan Mission) funding. By execution of the project, around 9,92,368 people of 770 villages under 228 GPs of 12 Blocks of the District will be benefited, he said.
Similarly, the Cabinet has also approved a tender worth Rs 379.17 crore for execution of two rural drinking water supply projects in Gajapati district to benefit more than 1.31 lakh residents of 346 villages.
The Government has also cleared two tenders of Rs 423. crore for execution of five drinking water projects in Balangir district. All the drinking water projects will be completed in two years, Jena said.
The Cabinet has approved the proposal for transformation of Veer Surendra Sai University of Technology (VSSUT), Burla, with an outlay of Rs 2000 crore, he said.
The State Government has decided to spend Rs 364.40 crore in three years (2022-23 to 2024-25) for implementation of the state plan scheme "Sustainable Harnessing of Ground Water in Water Deficit Areas".
The Cabinet has also approved allocation of Rs 330.17 crore for establishment of Odisha University of Health Sciences. It has approved a tender worth Rs 209.73 crore for Konark Temple Complex. Konark Heritage Area Development Plan (KHADP) under Integrated Development of Heritage & Monuments and Tourist Destination Scheme will transform the physical infrastructure in and around the temple complex and upgrade the visitors' experience, he said.
The Chief Secretary also informed that another tender of Rs 156.21 crore for execution of the Ekamra Plan. The Ekamra Kshetra Amenities and Monuments Revival Plan is an integrated approach towards reviving and enhancing the heritage value of the inner core of the old town of Bhubaneswar through urban design intervention and infrastructure upgradation of the 11th century Lord Lingaraj Temple.
The Cabinet has also decided also allow transfer of Chaka land. This move will give relief to the landowners in terms of sell/transfer/partition of their Chaka land and updation of land records. It will also result in revenue generation through collection stamp duty and registration fee on the transactions, Jena said.
Besides, the Cabinet also approved a proposal to make Hindi movie "Zwigato" and recently released Odia movie "Delivery Boy" tax-free till June 30, 2023.
It approved another major proposal for the enactment of a new legislation relating to the ownership of an individual apartment in a building with an undivided interest in common areas and facilities and to provide for better management of such apartments by repealing the Odisha Apartment Ownership Act, 1982 by way of promulgation of an ordinance.
The Government has decided to repeal the Odisha Apartment Ownership Act,1982 (Odisha Act 1 of 1984) and to have a fresh legislation namely Odisha Apartment (Ownership and Management) Ordinance, 2023. The problem faced by the apartment buyers cannot be resolved except by making the new legislation, he added.