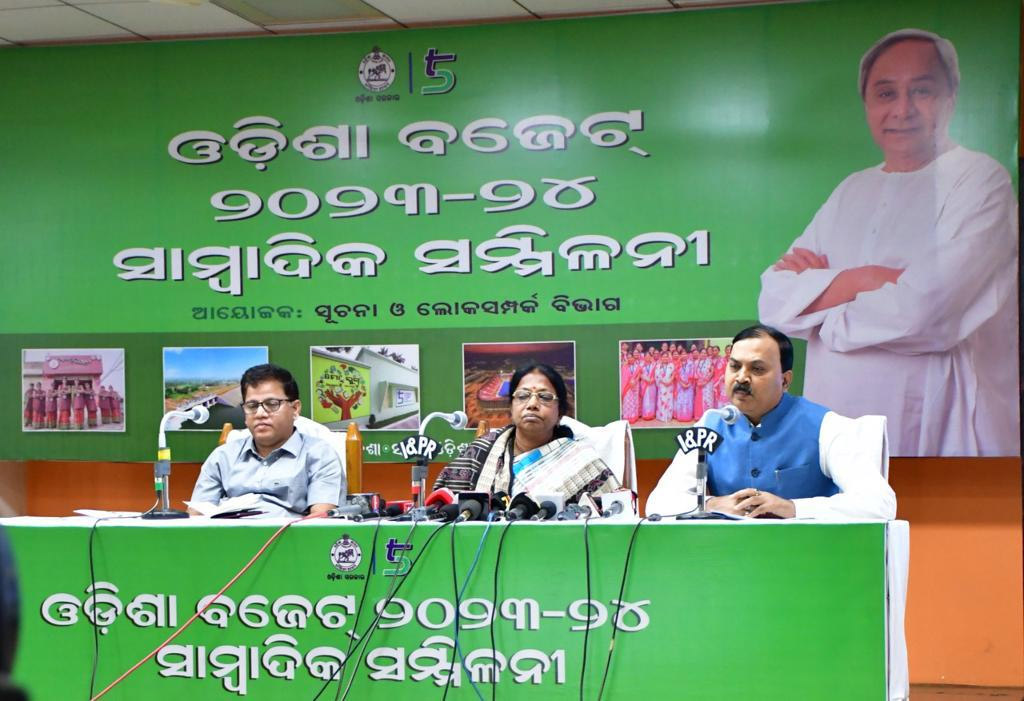 Bhubaneswar: Under the visionary leadership of Chief Minister Naveen Patnaik, incredible transformative initiatives have been undertaken in Revenue & Disaster Management Department.
After the introduction of the 5T Charter & Mo Sarkar Programme, the Department has taken multiple initiatives to reduce physical interface & minimize the requirement of any visit to Revenue field offices.
During 2022, approximately, two lakh RoRs have been corrected & sent to citizens either through speed post or Rajaswa Rath.
This was informed during a post-budget press conference addressed by Revenue Minister Pramila Mallick, Additional Chief Secretary, Revenue and Disaster Management Department, Satyabrata Sahu and Special Relief Commissioner (SRC) Nikunja Dhal.
Department provides an array of services, which are completely online except in cases of statutory requirement, said Shrimati Mallick.
Similarly, she said, in Certificate Services, the timeline under the ORTPS Act has been reduced. For example, in the case of Resident & Income Certificate timeline has been reduced from 15 days to 10 days.
The Minister said quick delivery of various Miscellaneous & Caste Certificates have been possible due to process re-engineering on application side, doing away with RI enquiry in certain cases and an efficient online application.
Approximately, 50 lakhs Resident & Income certificates have been delivered on the basis of self-declaration after introduction of 5T charter in last three years, added Shrimati Mallick.
In six components of Digital India Land Records Modernization Program, 20 districts of Odisha among 75 districts of India have attained more than 99 percent of its objectives, for which 20 districts will be conferred platinum award by Union Government.
Similarly, virtual courts have been started in 80 Tahasils since November 2022 & more than 3,000 cases have been disposed of after hearing through virtual platforms. All the districts have been instructed to start virtual courts in all Tahasils by April 2023.
Infrastructure of Revenue field offices has been of immense priority to this Department and there has been a budget outlay of Rs.250 crore to strengthen infrastructure of revenue offices.
To strengthen IT infrastructure of revenue offices, Rs.59.73 crore has been provisioned and furniture & fixtures in record rooms Rs. 5 crore has been provisioned.
Regarding Hi-Tech survey in the State, ACS Shri Sahu said that the Department is expediting Hi-Tech Survey for speedy & accurate land record services. Hi-Tech Survey has been completed in Deogarh district and it is being expedited in Sonepur & Sundargarh district.
Also, the Department is planning for recruitment for manpower through appropriate agencies. Adequate allocation for this purpose has been provisioned, informed the ACS.
The Department has asked all Tahasildars/Additional Tahasildars to institute 100 mutation cases for column 2 correction in RoR & 100 partition cases based on mutual consent every month.
In land revenue administration a total amount of Rs.1586.72 crore has been provisioned in the budget, of which Rs. 1164.71 crore has been made for administrative expenditure & Rs. 422.01 crore for programme expenditure, Shri Sahu said.
Special Relief Commissioner Shri Dhal said that to carry forward the vision of CM for a disaster resilient Odisha, Disaster Risk Reduction and capacity building initiatives have been taken up to reduce vulnerability of people and mitigate the impact of disasters.
Since the Super Cyclone in 1999, the State has made long strides towards improving disaster risk management capabilities. With improved preparedness and capacity, the State has been able to manage disasters successfully.
In due recognition of our disaster management initiatives, the Government of India has nominated OSDMA for the prestigious Netaji Subas Chandra Bose Aapada Prabandhan Puraskar.
For effective disaster management and risk reduction, Rs. 3700 crore has been earmarked in the budget for the year 2023-24. This includes funds required for relief & response, recovery & reconstruction, as well as construction of disaster resilient infrastructure.
Shri Dhal said Rs. 235.80 crore has been provided in the budget for capacity building of disaster response forces, planning and preparedness activities and capacity building of various stakeholders.
Besides, there is a provision of Rs 471.60 crore for taking up structural and non-structural projects like flood resilient roads, flood mitigation measures, strengthening/improvement of lifeline roads, fire/disaster proofing of buildings, cyclone resilient power infrastructure and drought proofing measures etc.
The budget also provides for technology driven innovative solutions and disaster resilience initiatives.