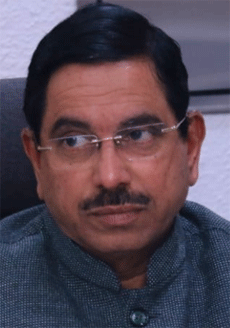 New Delhi: For bringing in sustained social and infrastructural development of mineral-rich regions, District Mineral Foundation (DMF) funds of Rs 13, 478 crores have been utilised in the State, till June last.
This was informed by Union Coal and Mines Minister Pralhad Joshi in Rajya Sabha on Monday.
Replying a question asked by BJD MP Mamata Mohanta, the Union Minister said the cumulative fund collection under District Mineral Foundation (DMF) in the State of Odisha till June 30, 2023 is Rs. 23,120 crores, of which Rs 13, 478 crores have been utilised, which is 58 percent of the collected amount.
Presently, the cumulative allocation under DMF is Rs 22,480.09 crores, which is 97 percent of the cumulative collection of the State.
Out of the cumulative collected amount, Rs. 17,755.20 crore is received from major minerals other than coal and lignite, Rs. 5237.58 crore is received from coal/lignite, and Rs. 127.21 crore is received from minor minerals, he said.
As per the State DMF rules, at least 60 percent of the funds are to be spent on high priority activities and up to 40 percent of the funds are to be spent on other priority activities.
The State Government has utilised Rs 10,085.77 crores in execution of high priority sectors while Rs 3265.92 crores spent on other priority activities and Rs 126.31 crore as administrative expenditure.
Under the high priority sectors, Rs 3,165.41 crores spent for drinking water supply, Rs 2,751.65 crores for education, Rs 1586.85 crores for healthcare, Rs 1036.22 crores for road connectivity, Rs 546.25 crores for livelihood programmes, Rs 487.06 crores for welfare of women, children aged & disabled people, Rs 205.63 crores on skill development of youths, Rs 152.75 crores on environment preservation and pollution control, Rs 141.19 crores on sanitation and Rs 12.76 crores on execution of housing projects.
Similarly, the State Government has made an expenditure of Rs 2070.96 crores for creation of various infrastructures, Rs 819.91 crores in irrigation projects, Rs 200.84 crores in energy & watershed, Rs 76.64 crores on afforestation and Rs 97.57 crores in other activities.
Joshi said the State Government has advised the DMFs to substantially enhance the fund allocation by creating a shelf of projects and expedite the utilisation of DMF funds in the ongoing projects.
District Mineral Foundations have been constituted in each district of the State under the provisions of Mines and Minerals (Development and Regulation) Amendment Act, 2015.
The DMF fund is being spent as per the guidelines of Pradhan Mantri Khanij Kshetra Kalyan Yojna (PMKKKY) and Odisha District Mineral Foundations Rules, 2015. High priority is being given to drinking water supply, protection of environment & pollution control, health service, education, women & child development, welfare of old & PwD, skill development, sanitation, housing, livelihood and road connectivity.
Under other priority sectors, the fund is being utilized for infrastructure development, irrigation, power supply and plantation.