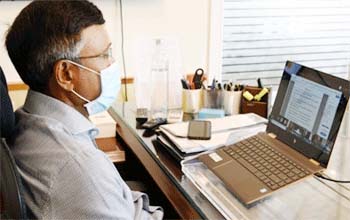 In another step towards sustainable agriculture and doubling of farmers' income, Government has sanctioned 12 new projects of worth Rs.7,295.25 lakh under Rashtriya Krushi Vikash Yojana ( RKVY).
The projects have been sanctioned in the State Level Sanctioning Committee meeting held on digital mode under the Chairmanship of Chief Secretary Asit Tripathy wherein Principal Secretary Agriculture and Farmers empowerment Saurabh Garg outlined the issues for discussion.
Giving sanction to the projects, Chief Secretary Mr.Tripathy directed to specify deliverables with time lines against each project and monitor those closely. He further directed to do due diligence at different levels of the project implementation and bring out necessary modifications as per ground level feed back in the light of the changing need of the farmers.
Mr.Tripathy also directed to identify the projects having potential for promotion of agri-entrepreneurship from among the ongoing projects. The project implementing departments and agencies were asked to expedite implementation of the projects through ground level monitoring.
While presenting the projects submitted by different departments, Principal Secretary Mr.Garg outlined their technical, financial and administrative aspects for discussion. Sri Garg also lighted upon necessity of the projects in the light of their direct benefit to the farmers. A total number of 12 projects of worth Rs, 7295.25 lakhs were presented by the project proponents.
Considering their importance and feasibility, Chief Secretary Mr.Tripathy accorded approval to the projects. These projects would be financed both by the Central and State Government on 60:40 sharing basis.
The major projects approved included promotion of pheromone traps for managing all army worm and insects on crops, e-paste surveillance and management, promotion of soil less nursery in tribal regions, promotion of high value crops, supply of kitchen garden kits, support to WSHGs for mushroom cultivation, planting material support for flower cultivation, renovation and modernization of old diary plants, promotion of nutria garden in tribal area, constriction of seed storage godown at nine places in different districts, supply of mango grafts for backyard plantation, and, supply of mix fruit plants for backyard plantation.
The committee also considered and approved the Annual Action Plan ( APP) of Rs.9136 lakh under different sub-schemes like Bringing Green Revolution to Eastern India (Rs.8884 lakh), Reclamation of Problematic Soils ( Rs.250 lakh), and Crop diversification Programme ( Rs.1.960 lakh). Considering the covid impact on filed level activities, Chief Secretary Mr.Tripathy granted time extension for 26 major projects in horticulture. aquaculture, orchids, breeder seed processing, fish processing, coconut and integrated farming.
Development Commissioner Suresh Chandra Mohapatra, Agriculture Production Commissioner Raj Kumar Sharma, Principal Secretary Agriculture & Farmers Empowerment Sourabh Garg, Principal Secretary Finance, Ashok Kumar Meena, Director Agriculture M Muthu Kumar along with Principal Secretaries and Secretaries of concerned departments and members of the SLSC participated in the discussions.