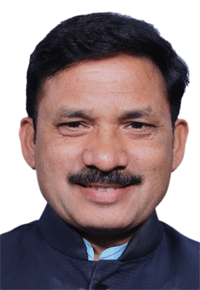 New Delhi: The Government of India has released a total fund to the tune of Rs 1162.60 crore to Odisha to provide broadband connectivity to all Gram Panchayats under BharatNet Project.
This was informed by Union Minister of State (MoS) for Communication, Devusinh Chauhan in Lok Sabha on Wednesday.
In a written reply to a question of BJP MP Basanta Kumar Panda, the Union Minister said the Centre has released Rs 541.50 crore under Phase-I and Rs 529.30 crore under Phase-II towards Capital expenditure (Capex). Similarly, Rs 91.80 crore released to Odisha to meet the Operational expenditure (Opex) so far, he said.
At the all India level, the Centre has released Rs 34,433 crore under the BharatNet Project.
As many as 6783 Gram Panchayats (GPs) of Odisha have been given broadband connectivity under the BharatNet Project, he said.
Chouhan said a total number of 3809 GPs were taken up for implementation under Phase-I and all GPs have been made Service Ready, as on March 6, 2023. Under Phase-II, 2,932 GPs have been made Service Ready out of 2,932 planned GPs.
Further, 42 GPs have been made Service Ready on Satellite media out of 47 planned GPs in Odisha, he said.
Only 15 Gram Panchayats in Odisha have left out from broadband connectivity. The GPs are—Nagtra and Baradhia in Angul, Rajpur in Balasore, Talagaon in Boudh, Bouda in Jajpur, Gadebandha in Kalahandi, Padepadar in Kalahandi, Padanipal, Batighara and Satavaya in Kendrapara district, Kujamendhi in Nayagarh, Berhampur in Puri, Jantri in Malkangiri, Sartulu in Kandhamal, and Chakidi in Mayurbhanj district, Chauhan informed.
According to sources, the BharatNet Phase-I was implemented through Powergrid Corporation of India Limited (PGCIL), while the Phase-II is being implemented in Odisha by the State Government.
The infrastructure created under BharatNet project is a national asset, accessible on a non-discriminatory basis to the service providers, and the same can be utilized for provisioning of broadband/internet services through Wi-Fi Hotspots, Fibre to the Home (FTTH) connections, leased lines, dark fibre, backhaul to mobile towers, etc.